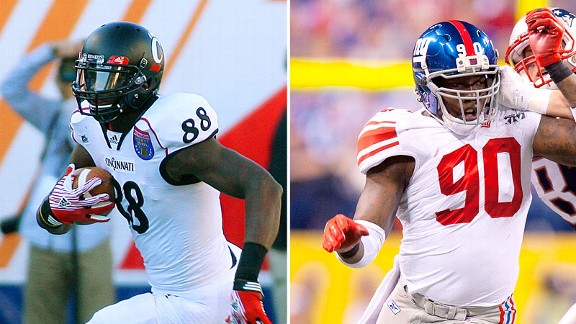 US Presswire, Getty Images
Adrien Robinson and Jason Pierre-PaulJust looking at his statistics, Cincinnati tight end Adrien Robinson didn't appear to do much offensively.
But the Giants were ecstatic to land a tight end who had a total of 12 catches for 183 yards and three touchdowns last season.
General manager Jerry Reese says Robinson is kind of like the "JPP of tight ends" in terms of raw athleticism and potential. That's high praise, considering Jason Pierre-Paul was a first-round project who emerged into a Pro Bowl defensive end in his second season.
"We really think this guy has a huge upside," Reese said. "He is a big, big man [with] long arms. He didn't catch a lot of balls for them. But he is kind of a late bloomer who has really come on. And we think this guy is kind of a JPP of tight ends. We like these kind of people."
The Giants believe the 6-4, 264-pound Robinson is full of "untapped" potential.
"He's a physical specimen," said Marc Ross, director of college scouting. "He ran a 4.5. He's just learning how to play football. We think he has tremendous upside. And the kid plays hard for being a former basketball player. Just didn't get a lot of chances. We think the sky is the limit. Coaching, the way we'll use him, I think he will just flourish."
And of course, when it comes to developing tight ends, few are better than tight ends coach Mike Pope, who has helped undrafted tight ends like Jake Ballard and Bear Pascoe emerge into starters.
"I don't know if he does the flips," head coach Tom Coughlin said of Robinson, in reference to Pierre-Paul's ability to do back flips. "He's got a lot of work to do to understand the pro game. He's athletic, a very, very athletic guy. It's all in front of him and we're anxious to get to work with him."
The Giants, of course, can use another tight end with Ballard and Travis Beckum recovering from torn ACLs suffered during the Super Bowl. They signed former Dallas tight end Martellus Bennett, another athletic, big player full of potential. And they have Pascoe and Christian Hopkins, who spent last season on the practice squad.
But the Giants brass could not contain its enthusiasm over landing Robinson in the fourth round.
"He is just a big, gigantic man with long arms," Reese explained of his JPP comparison. "He has got those freakish athletic numbers. When we got Jason we said, 'This guy hasn't scratched the surface.' And Jason still has a lot of learning to do [and] continuing to grow. This kid [Robinson] hasn't scratched the surface yet. He has a chance to be really something, we think."