The New York Giants finished their second day of practices at rookie camp.
If this was the last chance for undrafted players to make an impression on the Giants, some players made favorable ones.
Let's start with some of the Giants' draft picks first. The Giants saw glimpses of some big-play ability out of first-round running back David Wilson and second-round wide receiver Rueben Randle.
Wilson showed nice burst and was shifty on cuts during the non-contact practices. He also showed an ability to catch out of the backfield, but has to continue to learn how to pass protect.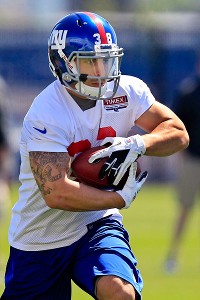 AP Photo/Mel Evans
Rutgers product Joe Martinek impressed Giants coaches with his versatility in the backfield.
Randle dropped some passes but also made big catches like a deep reception he had on Friday against third-round corner Jayron Hosley.
Defensive coordinator Perry Fewell thinks Hosley has talent to work with. Hosley also was the main punt returner during rookie camp.
"Jayron Hosley still has a lot to learn," Fewell said. "We see some athletic ability and talent there. He has got to progress with the speed of the game in the NFL and the pace of practice. But I think there is a lot to work with there."
Tight end Adrien Robinson predictably had some ups and downs during rookie camp. He can make a sensational high catch over the middle in traffic but also drop a routine catch, like he did on Saturday afternoon.
As for some of the players who weren't drafted, running back/fullback Joe Martinek from Rutgers left a good impression on head coach Tom Coughlin.
Martinek, one of the eight undrafted rookie free agents signed by the Giants, displayed versatility and quickness.
"He has been pretty good the whole camp, to be honest with you. Very steady," Coughlin said. "I think probably he can play both spots. That would be good."
Rutgers cornerback Brandon Bing, who was on the team's practice squad last year, also impressed by breaking up a few passes.
"I call him 'Bada,'" Fewell said. "He is not a surprise because he worked and he is enthusiastic. He is showing what he can do. We are excited about him competing for one of those jobs this spring as well as this fall."
One player who struggled on the second day was former Steelers second-rounder Limas Sweed. The 6-4 wide receiver, attempting a comeback after suffering an Achilles injury in 2010, dropped several passes in the afternoon session on Saturday.
Sweed said he has a few more tryouts lined up with other teams after this one with the Giants.
Former Southern Mississippi linebacker Korey Williams had a nice interception on Saturday while dropping back into coverage, but former Florida safety Will Hill was not where he needed to be on that play, drawing the ire of safeties coach Dave Merritt.
SPACE EATERS: Fewell sounded excited about the addition of veteran defensive tackle Shaun Rogers.
The Giants recently signed the 12-year veteran for depth behind Chris Canty and Linval Joseph. Fewell is hoping the 350-pound Rogers will force teams to commit two offensive linemen to Rogers.
"I have watched him throughout his career," Fewell said. "I thought he ran well [last year with New Orleans]. I thought he was a load in there; a big man that can push the pocket in the pass game. You better put two people on him. And that helps our defensive ends. And then a big anchor as far as the run game is concerned. He can swallow up a hole.
"So he has got to get himself into football shape. We really like what we evaluated and we hope he is motivated enough to come in and provide us with that dominant guy up front."
The Giants also have last year's second-round pick, Marvin Austin, at defensive tackle. Austin has not played in a football game in more than two years due to the NCAA scandal at North Carolina and a season-ending pectoral muscle suffered last preseason.
Fewell said he is not worried about Austin being out of the game for the last two years.
"I think that drives him a little bit more, because Marvin is a very hungry young player," Fewell said. "Now, the concern is, 'Wow, he hasn't seen this block or that block, or experienced this in such a long time that he is rusty.' But we are going to try to give him as many reps as we possibly can in the preseason to knock that rust off. I think Marvin is a good football player."
HAPPY TRAILS: Veteran center Jamaal Jackson left rookie camp on Saturday, telling Coughlin that his heart was no longer into it.
"He retired," Coughlin said. "He came in, he was very nice. He just said, 'Coach, I just don't feel like my heart is in it.'"
Jackson started 72 games for the Eagles before trying out at rookie camp for the Giants.