Now that minicamp is over, we're going to take a look at a Giants player or specific unit or issue each day this week. Tomorrow we'll get into the middle linebacker position.
SPOTLIGHT: Terrell Thomas
THE 411: Thomas took it easy in OTAs and minicamp to play it safe with his surgically repaired ACL, but took mental reps and says he will be ready to go when camp opens at the end of July.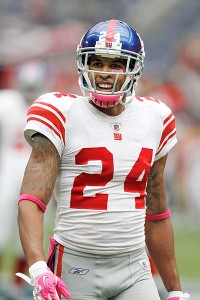 Brett Davis/US Presswire
Terrell Thomas re-signed with the Giants on March 13.
"I will be out there," Thomas said. "No limitations.
"As far as what they have for me, who knows?" he said of the Giants' training staff. "They may want to take it slow. But come that day, my doctors already declared me I will be a full go."
Thomas, 27, injured his right knee last summer in the second preseason game. He said he will train and do one-on-one work over the next month in California with other USC products, including Carson Palmer, Matt Leinart, Matt Cassel and Steve Smith, among others.
THE COMPETITION: Thomas considers himself the starter opposite Corey Webster but he says he expects competition for the starting spot after what he saw in OTAs and minicamp.
"There are some young guys here ready to compete. Michael Coe and Justin Tryon had a wonderful OTA, putting that pressure on me," Thomas said. "And I like it. I like the competition. It will make us all better. We got Prince [Amukamara] and the rookie [Jayron Hosley] coming in. It will be fun coming training camp."
WHAT THE COACHES ARE SAYING: Defensive coordinator Perry Fewell says the Giants have two plans at cornerback -- one with a healthy Thomas and one in case Thomas' knee isn't ready when the team reports to training camp on July 26 in Albany.
"We have a backup plan in case he is not ready," Fewell said. "But he is heavily in our plans. We have to wait until Albany to see which plan we go with. Like anything that we try to do, we have a Plan A and a Plan B, and he is in the Plan A."
CAMP PREDICTION: I expect the Giants to take it slow with Thomas at the start of camp, but he should be the starter opposite Webster when the season starts if all goes well with his knee.
Amukamara, Tryon and Coe will get a crack at the third corner spot. Coe and Tryon both started during minicamp as Thomas and Webster (hamstring) rested. Hosley, Bruce Johnson, Antwaun Molden and Brandon Bing also add to the depth and competition at corner.
I also think Thomas could cover slot receivers on passing downs if the team trusts Amukamara, Coe, Tryon, Johnson, Molden or Hosley to handle receivers on the outside in those situations. It remains to be seen how long Thomas will need to regain his old form, but he was one of the team's best tacklers prior to last year's knee injury. He remains one of the team's most motivated players.
If Thomas' knee isn't ready or he suffers an unforeseen setback, the Giants' Plan B could be with Amukamara, Coe or Tryon as the second cornerback, or they could fill that spot by committee. The Giants drafted Amukamara in the first round with hopes that he will be a starter someday, but he just started increasing his practice workload in minicamp after having an injection to his foot earlier this offseason. Fewell said Amukamara has to come into camp in better physical shape.
Tell us what you think about Thomas and the Giants' cornerback situation entering camp.