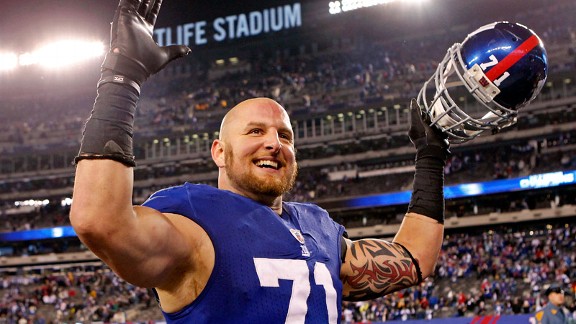 Tim Farrell/The Star-Ledger/US Presswire
The Giants lost key role player Dave Tollefson in free agency. Who will answer the call in his absence?Now that minicamp is over, we're going to take a look at a Giants player or specific unit or issue each day this week. Tomorrow we'll continue our defensive-minded spotlights by taking a look at defensive tackle Marvin Austin.
SPOTLIGHT: Who will replace DE Dave Tollefson?
THE 411: The Giants kept the league's most fearsome pass rush intact by restructuring Osi Umenyiora's deal and keeping the defensive end relatively happy for this coming season. But they did lose Tollefson in free agency to Oakland. Tollefson was a valuable backup who gave Justin Tuck, Jason Pierre-Paul and Umenyiora breathers while also being terrific insurance in case of injury and proving he could be a capable fill-in starter.
He has just 10 career sacks but he collected five of those sacks last season. He started two games last year and was a great complement to the Giants' star defensive ends. The Giants still have linebacker Mathias Kiwanuka, who often went back to the front line as the fourth defensive end in Perry Fewell's NASCAR package. But Tollefson was another pass rusher they could throw in that package and he could play special teams, provided veteran experience, often played injured and was also very popular in the locker room.
THE COMPETITION: Logic would say the Giants should use Kiwanuka more as a pass rusher with Tollefson gone. But the Giants insist Kiwanuka will remain in his dual hybrid role. Kiwanuka could see more snaps at defensive end but the Giants would like a new player to emerge into Tollefson's role of providing limited snaps at defensive end to give opposing offensive lines a different look while giving Tuck, JPP or Umenyiora a breather.
Second-year defensive end Justin Trattou and Adrian Tracy are competing to fill Tollefson's spot in the defensive end rotation. Trattou, 23, has one tackle in six games last season.
Tracy, 25, was a sixth-round pick in 2010 and is listed as a linebacker but is being converted into a defensive end. He has yet to play in a game.
WHAT THE COACHES ARE SAYING: Fewell was asked if he will use Kiwanuka more at defensive end with Tollefson gone.
"We don't know that right now," Fewell said. "Obviously losing Dave was a blow for us but we do have a plan and Kiwi will rotate and play some defensive end. More? I don't know."
"A guy like Trattou, Tracy and Kiwi is always an alternative choice to go there but if one of those guys can come on then we don't have to tax Kiwi," Fewell added. "That is how we look at those guys and that's what we are trying to find out, if they can fill the role that Dave Tollefson left."
CAMP PREDICTION: This should be an interesting competition between Trattou and Tracy but my guess is that whoever wins likely won't see as many snaps at defensive end as Tollefson saw, and that wasn't a whole lot to begin with when Tuck, JPP and Umenyiora were healthy and available.
I do think that Fewell will use Kiwanuka a bit more as a pass rusher on passing downs, especially now that Fewell has more experience and options at linebacker. He has Michael Boley, Keith Rivers and Jacquian Williams as linebackers who have the speed to cover on passing downs. Chase Blackburn, Boley and Rivers or perhaps Mark Herzlich could play at linebacker if Fewell opts to use Kiwanuka more as a pass rusher on a perceived running play as well.
That flexibility should allow Kiwanuka to rush the quarterback a bit more. Fewell could also use Tuck, JPP, Umenyiora and one defensive tackle like Chris Canty or Austin on the front line on passing downs with Kiwanuka rushing from the linebacker spot.
And if Trattou or Tracy emerge, Fewell will have even more options, including the ability to rush Kiwanuka from the linebacker spot with one of those two on the line with Tuck, JPP and Umenyiora. The team liked Trattou enough to have him on the active roster last season for a bit, but Tracy has also stuck with the team on the practice squad as a sixth-round pick from 2010.
Tell us what you think the Giants should do with Tollefson gone and what you think of Trattou and Tracy below.