Adrian Tracy was a defensive end in college, a linebacker in his first two seasons with the Giants and now is making the move back to defensive end.
It's probably a good thing Tracy tries to emulate his game after Mathias Kiwanuka, the Giants' hybrid linebacker/defensive end.
"I kind of fashion some of my game after Kiwi because he plays both spots," Tracy said after helping instruct kids at Chris Canty's football camp in Washington Heights. "I am not shying away from playing linebacker or whatever the team wants me to do and whatever they see me at. Versatility has allowed me to stick so far and being able to play two positions is a good thing."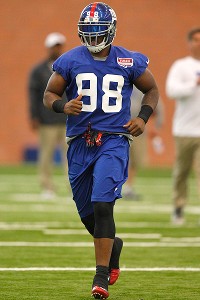 Jim O'Connor/US Presswire
Tracy is ready to show the Giants what he can do at defensive end, the position he played in college.
This season, the Giants are looking at Tracy at defensive end as they search for a replacement for Dave Tollefson, who signed with Oakland in free agency.
The 6-2, 245-pound Tracy has dropped his body fat and added muscle for the move and is thrilled with the opportunity to potentially provide Justin Tuck, Jason Pierre-Paul and Osi Umenyiora a breather.
"It is awesome learning from these guys, as far as how they dissect film," Tracy said. "I want to learn and be a student of the game. Justin Tuck and Osi Umenyiora are the two of the best in the league. So I am picking their brain left and right to try to see certain situations that are going through their minds so I can pick up some things and better my game."
Tracy was a defensive end while at William & Mary and then was converted to linebacker after the Giants drafted him in the sixth round in 2010.
Tracy spent his rookie season on injured reserve with an elbow injury. He was on the practice squad last season and now will compete with Justin Trattou to potentially take Tollefson's backup role.
"It was a process," Tracy said of the past two seasons. "My rookie year I was hurt, so that was kind of a setback. And last year I think I was on the practice squad just to learn and so they can see that I am able to play."
"On the practice squad we did everything like the regular team, except we didn't play," Tracy added. "So we are grinding every day. And with my injury, just to see if I was durable, if I could stand the whole 20-game season that we had, I think that put me in good position ... them seeing what I can do."
In OTAs and minicamp, Tracy said he saw some time at linebacker in certain packages, but defensive coordinator Perry Fewell said Tracy has been moved to defensive end.
"We felt that he's more of a defensive end," Fewell said. "After looking at him for the past year or so, we feel that's his strength and we can make some progress with him playing defensive end for us."
"He's really strong at the point of attack," Fewell added. "You'd be surprised at how Tracy is strong at the point of attack –- much stronger than he physically looks. But I think he'll do well there."
Tracy says spending his first two seasons in the linebackers room has helped him learn the entire defense.
Now he is ready to show that he can replace Tollefson and help on special teams.
"That is all I can ask for, the opportunity," Tracy said. "With my talents and the knowledge that I have gained thus far, I think I am in a good position.
"The opportunity I have is great and you can believe I will take advantage of it."