With training camp at the end of the month, spotlight focuses on the left tackle position and what might happen if starter Will Beatty's back continues to be an issue.
SPOTLIGHT: Left tackle.
THE DEPTH CHART: Will Beatty, James Brewer, Sean Locklear and Matt McCants.
THE 411: Beatty is the starter, but he was slowed by a problematic back issue throughout OTAs and minicamp. Beatty said at the end of minicamp last month that he will be ready for training camp.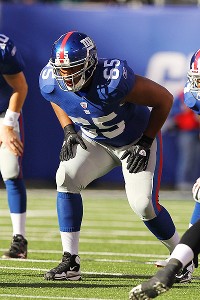 Al Bello/Getty Images
Will Beatty
Beatty became the starting left tackle last season, but missed the final six games of the regular season and the playoffs with an eye injury. David Diehl moved back to left tackle and the Giants won a Super Bowl with Diehl there, but the team moved Diehl to right tackle this season to replace Kareem McKenzie.
But if Beatty's back continues to be a problem, the Giants might have to turn to second-year tackle Brewer (either at left tackle or right tackle and moving Diehl back to LT) or the veteran Locklear.
McCants, a sixth-round pick this year, is still a season away from contributing.
During OTAs and minicamp, Brewer and Locklear got reps at left tackle with Beatty out.
WHAT THE COACHES ARE SAYING: Offensive coordinator Kevin Gilbride said the offensive line is a concern for him.
"We need him," Gilbride said, when asked how tough it will be if Beatty is not available at the start of camp. "He has got to be there. We have lost what amounts to three starters in the last two years on the offensive line [Shaun O'Hara, Rich Seubert and McKenzie]. You can't keep doing that. ... If you lose [Beatty] that means four starters in the offensive line. Then it doesn't matter how good your quarterback is."
"Somebody has to step up," Gilbride added.
CAMP PREDICTION: The Giants might take things slow with Beatty if his back is still feeling iffy at the start of camp.
In that case, Locklear and Brewer could continue to see snaps at left tackle. If Beatty's back becomes serious, the Giants will then have to consider whether to go with either Locklear or Brewer, or move Diehl back to left tackle and play Brewer or Locklear at right tackle.
Jerry Reese, Tom Coughlin and Gilbride have all said that they want to see Brewer take a step forward this season. Giving Brewer the first crack to see what he can do makes sense, and if the coaches don't believe he's ready, they can go with the veteran Locklear in the case Beatty is unable to play. Brewer and Locklear getting more practice reps also helps in case Beatty's back flares up later in the season.
But if Beatty is fine –- he showed signs of improvement toward the end of minicamp as he did individual drills on the field –- the Giants will go into the season with Beatty, Kevin Boothe at left guard, David Baas at center, Chris Snee right guard and Diehl at right tackle.
Tell us what you think of the Giants' left tackle situation below.