As training camp approaches we're taking a look at the defending champions, position by position.
Position: Defensive backs.
Projected starters: CB Corey Webster, CB Terrell Thomas, S Antrel Rolle and S Kenny Phillips.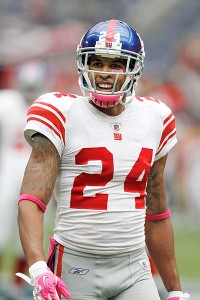 Win McNamee/Getty Images
Terrell Thomas, who signed a new contract in the offseason, is returning from a knee injury.
Projected reserves: CB Prince Amukamara, CB Jayron Hosley, CB Michael Coe, CB Justin Tryon, S Tyler Sash, S Stevie Brown.
New faces: Hosley, Brown, CB Antwaun Molden, S Chris Horton, S Will Hill, DB Janzen Jackson, DB Dante Hughes and S JoJo Nicolas.
Going, going, gone: CB Aaron Ross, S Deon Grant, S Will Blackmon and DB Derrick Martin.
Player to watch: Thomas. He has been cleared for training camp coming off the second torn ACL injury of his football career. He was having an outstanding camp last year and was poised for perhaps his best season before he suffered his season-ending knee injury in a preseason game. Thomas is motivated to prove that he can return to the level he was at before; if he can, the Giants secondary will be better than it was last season with one of its best tackling defenders back opposite Webster. Thomas may also cover slot receivers as well.
Potential strength: The secondary will be a competitive unit in training camp and might be deeper than last season if healthy. GM Jerry Reese signed Brown, Molden and Horton while drafting Hosley in the third round. Thomas said that Coe and Tryon shined during OTAs and minicamp while getting extra reps in his place as he took things slow with his surgically repaired knee. Defensive coordinator Perry Fewell also praised CB Brandon Bing for his play during OTAs.
Amukamara should improve in his second season even though he missed most of his rookie year due to a foot injury. And if Amukamara isn't ready for more snaps, veterans like Coe, Tryon, Molden and potentially Bruce Johnson, who missed all of last season due to injury, can step up. Due to injuries last season, Rolle had to take on even more responsibilities such as covering slot receivers at times. With a healthier secondary, Rolle should be able to return to playing a more familiar role at safety and be the ball hawk that he yearns to be.
Potential weakness: Health. Thomas, Coe, Tryon and Johnson are all returning from season-ending injuries. If Thomas struggles to regain his form, the Giants will need someone else to step up. Amukamara required an injection to help strengthen his foot, which kept him out for half of last season. Health is always a concern for the Giants and their secondary. The Giants also lose valuable experience and leadership with Grant still unsigned.
Wild card: Amukamara. He lost most of his rookie season and valuable experience and coaching due to his broken foot suffered in training camp. The Giants drafted him in the first round in 2011 with hopes that he will become a starting cornerback soon. The hope for this season is that he will replace Ross as the third cornerback, mature and show his first-round pedigree.