ALBANY, N.Y. -- Justin Tuck went into training camp feeling healthy last year, but he suffered a shoulder/neck injury against the Jets in the preseason that lingered.
There would be other painful, nagging injuries (groin and toe) that would plague him as the season went on. Meanwhile, off the field, Tuck endured even more pain with the loss of his grandfather and two uncles.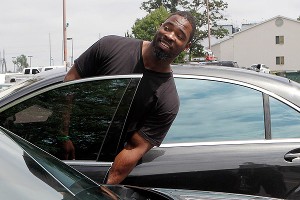 Tim Farrell/US Presswire
Justin Tuck, the Giants' defensive captain, had a smile ready when he arrived at training camp.
This year, Tuck returns to camp feeling healthy again and things off the field are better.
"I came into camp last year pretty healthy, too," Tuck said Thursday, upon reporting to camp. "That damn Jet preseason game.
"More than anything, my mind is in the right place this year. I haven't had a lot of personal problems as I did last year, God bless. Hopefully that stays the same and I can continue to just focus on football."
Tuck recently told ESPN's Jeffri Chadiha for "E:60" that he didn't work as hard last offseason as he normally does, due in part to the lockout. This year, he is motivated to regain the form that made him one of the best pass rushers in the NFL.
But his main focus is adding another Super Bowl ring to his collection as opposed to statistics or making another Pro Bowl.
"In my old age, I'm less concerned about me personally, as far as stats, than I am about what we do as a team," said Tuck, 29. "It's important for me to win football games. Yes, I would love to be a Pro Bowler, love to be All Pro and all those things, that's icing on the cake. (But) I'll take last year's stats with a Super Bowl any year."
Tuck played in 12 regular season games last year, finishing with just five sacks. However, he had a combined 3.5 sacks in the NFC Championship Game and Super Bowl.
Tuck knows that if he, Jason Pierre-Paul and Osi Umenyiora can stay healthy, the Giants will get their fair share of sacks this season.
"If we all are healthy at the same time and get the opportunity to be on the football field together, that trio is going to be tough to handle," Tuck said. "It's gonna be tough for offensive lines to block us. They'll have to pick and choose; they can't double-team all of us. We feel we can win the one-on-ones. That's gonna be our strength this year, if we're healthy."