ALBANY, N.Y. -- This is a big camp for Jerrel Jernigan.
He has a chance to win the third receiver spot and lock down the punt returner and kick returner spots. On Saturday, he showed a little bit of what he can do at receiver as he highlights our Day Two practice observations: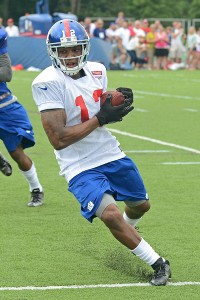 AP Photo/Evan Pinkus
Jerrel Jernigan• Jernigan beat Michael Coe on a deep pass down the left side and later in practice beat Corey Webster by a few steps on the right side for a long catch. He also caught a few balls across the middle and showed nice speed.
"He's made a couple of plays," Tom Coughlin said. "He's made some nice plays on the outside, and 'turn and run' with the ball. We're looking forward to his continuing advancement, and also as a kick and punt returner."
Ramses Barden also made some nice catches across the middle today. He is competing with Domenik Hixon, Jernigan and Rueben Randle for the third receiver spot.
• The best catches of the day, though, went to Victor Cruz, who had another twisting catch for the second straight day. On Friday, he did it with a corner on him. This time, during a drill that involved no defense, he snatched the ball with just his left hand. On two other occasions, he barely missed hauling in catches with his left hand on passes that were just a tad too long for him to bring in. Otherwise, Cruz so far looks easily like the best playmaker on the field in camp.
Eli Manning's chemistry with Cruz continues to get better. The two connected on a nice back shoulder completion where Cruz made a terrific adjustment.
• Rookie David Wilson got more carries today as Da'Rel Scott sat out practice with a swollen ankle suffered the day before. Wilson continues to show how shifty he is and is able to cut and change direction in a flash. The Giants practiced on turf due to the grass fields being too wet and on one cut, Wilson was really low and he cut so fast it was almost scary.
Wilson did drop a pitch to his left in the backfield but it was raining at the time.
With more experience and reps, he can provide the Giants with a speedy dimension to the offense and can catch balls out of the backfield.
• Jason Pierre-Paul gave the Giants and the fans on hand a temporary scare when he took a spill and got up slowly before hobbling off the field to be checked on. He would return, though, a few plays later and continue practicing.
Defensive end Justin Trattou, though, rolled his ankle and needed help to walk off the field. Coughlin said Trattou will undergo X-rays. Trattou has looked good in the first two days as he battles Adrian Tracy to replace Dave Tollefson as a backup defensive end.
• Michael Boley watched the end of practice from the side. Coughlin said he wasn't told that there was anything wrong with Boley or anything holding him out. We'll have to find out more tomorrow. Scott did not practice along with PUP list players Hakeem Nicks, Chris Canty, Travis Beckum and Clint Sintim.
• Cornerback Terrell Thomas returned to practice after he was unable to finish practice on Friday due to a tight back.
• Linebacker Mark Herzlich contributed to breaking up a pass about 15-20 yards down field. Defensive tackle Markus Kuhn also batted down a pass with a loud thud at the line of scrimmage.
• The Giants practiced outside and were able to get most of their practice in while it was still dry. They practiced on the University of Albany's lacrosse field's FieldTurf for the first time in training camp. Rain started coming down toward the end of practice and the Giants remained outside for about half an hour. Still, 5,110 fans showed up and watched practice.