ALBANY, N.Y. –- Osi Umenyiora held court and was surrounded by reporters and cameras.
It's a scene that has been all too common at the previous couple of Giants' camps. But the difference this time is that the defensive end says he is content with his contract.
In the past two training camps, Umenyiora's contract situation hovered over the Giants like an ominous cloud. This year, Umenyiora enters camp after restructuring the final year of his deal.
So a happy Osi means a drama-free Giants camp.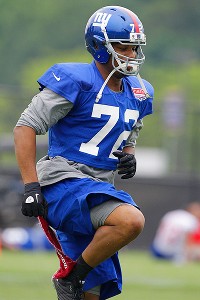 AP Photo/Kathy Willens
Osi Umenyiora isn't burdened by contract worries this camp.
"I'm happy to be here," Umenyiora said. "I can say that. I don't derive all my happiness from football, but I'm happy to be here."
For the past two years, Umenyiora and the Giants had to answer endless questions about the defensive end's contract. He sat out practice for the first couple of weeks at camp and was granted temporary permission to seek a trade. When nothing happened, he came back for three practices and experienced swelling in his knee. Umenyiora opted for minor surgery and missed the rest of camp.
This year, the contract is in the past. He agreed to a minor raise and will play out the season before likely testing the free agent market.
"Yeah, well, I'm glad I don't have to answer those questions," Umenyiora said about his contract. "[But] I've never been one to focus on a contract situation when I'm actually out there on the football field."
"I play for pride and I play for my teammates and this coaching staff," he continued. "And I think that's going to be the exact same. So whether or not I got a contract when I step out there on the football field it's going to be the same thing."
Umenyiora is feeling healthy mentally and physically as well. He said he enters camp without the nagging pain he has felt so many times in his hip or knee.
"These last couple of years, I've been playing with little nagging things here and there," Umenyiora said. "But now for the first time in a while I feel relatively healthy and I hope I'm able to maintain that throughout the year."
The last time he felt this healthy entering a camp was before 2006, before he hurt his hip. Umenyiora says he hasn't even had to see a doctor in a while.
"Since then, it's been one thing or another," Umenyiora said. "So it's been maybe about six years. Long time. So I'm happy about it, but I've just got to hope that it stays that way."
Umenyiora would love to finish out his career with the Giants but he is not trying to think about what may happen in the future.
"The one thing I did learn about last year is it doesn't matter what you think, there's really no telling what's going to happen here in the future," Umenyiora said. "So it's important that you just come in and show up and work as hard as you can and all those other things will take care of themselves."
"These are my guys, man," Umenyiora added. "The sky's the limit. I'm just going to go out there and perform to the best of my ability and hopefully I'll be able to help this team win."
This summer, all the drama in New York football is with the Jets. For now, the Giants don't have to worry about Osi's contract situation.
"When there's no contract situation surrounding me, there's not much to talk about," he said. "We're just a very low-key, laid-back type of team. I think that's the approach we take. We try to keep our focus on the football field. That's what we've been able to do successfully."