ALBANY, N.Y. -- Antrel Rolle is ready to cover slot receivers again if need be.
A day after safeties coach Dave Merritt said Rolle will likely cover slot receivers again this season if Terrell Thomas is out for a while, Rolle said he would do whatever is asked of him.
"Well, in this league, we have to have an open mind," he said. "A ballplayer is a ballplayer. It doesn't matter what position you are at. And if I have to go down there and do it again, then so be it. Right now, my only focus is hearing feedback from Terrell and hoping everything is OK and hopefully we will be able to move forward."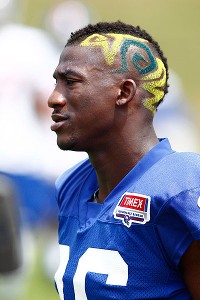 Mark L. Baer/US Presswire
Antrel Rolle is ready to cover slot receivers again this season.
Rolle gradually accepted the role of covering slot receivers last season after a number of cornerbacks went down due to injuries. At first, he said his new responsibilities kept him from being the playmaking ball hawk that he can be in his traditional safety role. But as the season progressed, Rolle accepted his change and the Giants made their run to the Super Bowl with every player following the "all-in" mentality.
Rolle admitted he was looking forward to getting back to more traditional safety responsibilities this season when camp opened.
"Yeah, that is an accurate read," Rolle said when asked if he was hoping to play back at safety more this season. "But like I said, in life, sometimes you are going to get some changes … you have to play the cards that are dealt to us."
Rolle said this time he is a lot more comfortable moving up against slot receivers because of his experience doing it last season.
"Just from the couple of days I have been there, there is a lot of carryover from last year," Rolle said. "There is a lot of familiarity and it's a comfort zone. Definitely a comfort zone. I think there will be other guys competing for that spot and hopefully we can have some other guys that we can throw in there and I can get back to safety."
Safety Will Hill and even linebackers Jacquian Williams and Keith Rivers are possibilities to play Deon Grant's old role of third safety if needed. And perhaps a cornerback like Justin Tryon might be able to cover slot receivers.
Otherwise, Rolle may be the leading candidate right now to cover slot guys again.
"Antrel is willing to do whatever you ask him to do," Tom Coughlin said. "He has known both positions, he would play both positions and play them well. We have some different combination of people. There are different guys playing in that spot, even Jacquian is playing in that spot."
"We will use different combinations of people and check all these young guys out and all these other guys in camp and see how they fit," he added. "And whoever we feel like is the best person to give us the balance we want between the pressure and man coverage aspect of it, we will go that way."