ALBANY, N.Y. -- Cornerback Michael Coe and wide receiver Julian Talley had to be separated once near the beginning of practice.
And toward the end of Tuesday's practice, wide receiver Domenik Hixon and cornerback Prince Amukamara were locked in a face-to-face staredown before cooler heads prevailed. Each time, there may have been a couple of shoves and pushes but nothing more.
Apparently the Giants are going to leave all the fighting to their New York neighbors in Cortland. When asked about two very minor tussles today in camp, Tom Coughlin wondered what the reporter was asking about.
"What scuffles?" Coughlin said.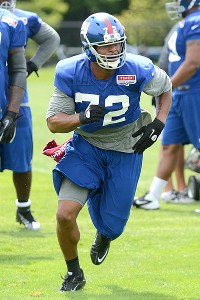 AP Photo/Evan Pinkus
Osi Umenyiora had the play of the day at Giants practice.
When the reporter asking the question clarified by saying some pushing and shoving, Coughlin replied, "that is about what they were."
The Jets had a headline-making brawl during Monday's practice and a couple more scuffles that set off Rex Ryan on Tuesday. The Giants, though, have barely even had a real tussle occur thus far.
Here's some observations from Tuesday's practice:
• Terrell Thomas was not seen at practice and Coughlin said he was eager to see Thomas again.
The head coach said he did not see the cornerback prior to Tuesday's practice. Thomas is expected to join the Giants shortly to begin rehabbing his right knee.
• RB Da'Rel Scott sat out practice with a thigh contusion. This is his second injury of camp and this is a big camp for Scott, who is trying to make the team and claim some carries this season.
"He got a thigh contusion that was swollen and came up the side of his leg," Coughlin said. "That is his second injury. Doesn't help."
Joining Scott on the sideline was LB Jacquian Williams, LB Jake Muasau, PUP list players Travis Beckum, Chris Canty, Clint Sintim and Hakeem Nicks. Will Beatty also wasn't at practice, likely resting his back. Nicks did run routes on the side for the first time since his foot surgery in late May.
• S Will Hill continues to get some pivotal snaps with the first team in nickel situations as the team's third safety/extra DB. The Giants like what they have seen from him and he certainly appears to be in line for some snaps, perhaps as the third safety, until Tyler Sash returns from suspension in the regular season.

• It was a good practice for rookie cornerback Jayron Hosley. He had a nice breakup on a Ryan Perrilloux pass intended for Brandon Collins. Hosley gestured to Perrilloux by rubbing his fingers as if someone was expressing that something is expensive. Hosley looked like money on his biggest play later in practice, an interception during red zone drills which he took down the left sideline. Perry Fewell made him run the remaining 80 yards to the opposite end zone by running with him.
"Made a couple of nice ones," Coughlin said. "Seems like he can handle it [the mental part of the game]. He had a nice punt return yesterday, had a nice interception play today. Good for him. We need for that guy to really come through for us."
• Amukamara made a sweet breakup on a bomb intended for Jerrel Jernigan. Amukamara jumped and knocked the ball down with his arms outstretched over Jernigan's head from behind near the end zone.
Jernigan did show terrific speed and looked good on a kickoff return.
• WR Ramses Barden made a few catches, including a sideline catch during a two-minute drill that moved the ball downfield. Talley, though, dropped a sure touchdown after he beat Brandon Bing deep.
Dan DePalma also made a nice over-the-shoulder catch on a bomb, beating Antwaun Molden. Isaiah Stanback also had a nice twisting catch on the left sideline on Bing.
• The play of the day, hands down, goes to Osi Umenyiora. Eli Manning rolled out right. With Umenyiora chasing behind him, Manning turned and lofted a pass back across the left to D.J. Ware for a screen play that had been set up. But Umenyiora tracked back, jumped and picked off Manning for a pick-six.
"Really great hands," Coughlin said. "I thought we had beaten him with that screen a few times this preseason and I thought he had been suckered in again because he was a long way down the scrimmage and then he turned around and covered and made a really nice catch on the ball."
• Giants worked on their screen game, throwing a screen to TE Martellus "The Black Unicorn" Bennett and TE Adrien Robinson. They also tried out some gadget plays like a direct snap to rookie RB David Wilson and some end arounds, including one to Jernigan.