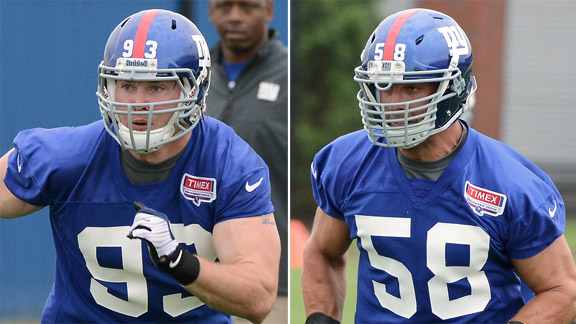 AP Photo
The Giants will get their first in-game glimpse at the position battle between Chase Blackburn and Mark Herzlich in Friday night's preseason opener.JACKSONVILLE, Fla. –- Chase Blackburn might play just 15 snaps Friday night in the preseason opener with the starters.
But backup middle linebacker Mark Herzlich could be in store for 25 snaps or a quarter of the action or more. On Friday in Jacksonville, the New York Giants will get their first glimpse at several positional battles on the field, including the one at middle linebacker between Blackburn and Herzlich.
The linebackers unit is deep and competitive, and middle linebacker is a position to watch Friday.
"We feel very comfortable with whoever goes in and plays, and that's a good situation to be in," linebackers coach Jim Herrmann said. "I haven't been in that situation with the Giants in a long time. We really have good, young guys who came in last year, and are now back bigger and stronger.
"We have veteran guys who played in a lot of NFL games, so as a group, we're very deep when we're healthy," Herrmann added. "There's competition at every position."
Michael Boley and Mathias Kiwanuka are locked in as the starting outside linebackers. Blackburn, though, will have to hold off the second-year Herzlich, who has looked impressive in camp thus far.
Blackburn remembers what it was like to be the backup middle linebacker yearning to prove himself on every snap.
"When I was young, I took advantage of every opportunity that I had," Blackburn said. "When Antonio [Pierce] would be out, I'd try and take advantage of every rep I could get. He's doing the same thing. When we're out there practicing, he's trying to get reps, at the WILL and the MIKE, the threes [third team]. He's going to get as many reps as he can."
The Giants know what they have in Blackburn, who might know Perry Fewell's defense as well as any player on the team. His veteran experience and intimate knowledge of the defense are his edge over Herzlich. He also showed a knack for making some big plays, such as his interception in the Super Bowl off Tom Brady. Fewell has immense trust in Blackburn.
"I can pretty much tell you any position on defense and what they're going to do for each play, things like that," Blackburn said. "But there's so much more you can do. Offenses are learning what you're doing as well, and they're going to attack certain parts.
"There's always a strength and weakness to everything," Blackburn added.
Herzlich's strength and physical attributes have been hard to ignore at camp.
The 6-foot-4, 246-pound linebacker looks big and is faster than last season. With a year and an offseason of training and coaching under his belt, Herzlich is playing faster. He also looks leaner after changing his diet to the paleo "caveman" diet.
Last season, Herzlich and the rookies went into camp without any offseason coaching due to the lockout -- and camp was a struggle.
"Ten days into camp last year, I don't even think I could be out there being perfect with the threes," Herzlich said of playing on the third team. "It's night and day. It's completely different [this year]."
Fellow second-year linebackers Jacquian Williams, Greg Jones and Spencer Paysinger all have looked more comfortable and aggressive in camp. Now they all will get a chance to show how big of a leap they will take this season from their rookie year.
Herzlich hopes his leap will take him into the starting lineup as his competition with Blackburn finally sees live action Friday. He wants to show he is better in coverage this year and has a better grasp of the defense. He definitely will have to wrestle the starting job away from Blackburn, and Friday is a chance for Herzlich to make a big impression.
"We encourage each other, we learn from each other and that's the way the linebackers work," said Herzlich, who started two games last year before suffering an ankle injury that kept him out the rest of the season. "The chips will fall where they may."