The Giants will make their final cuts to reduce the roster to 53 on Friday.
I know many of you have been trying to project the roster. I did my offense and defense projections on Tuesday and Wednesday. Here's my final guess, taking Wednesday's preseason finale into consideration.
Tell us below what you guys think as far as who stays and goes.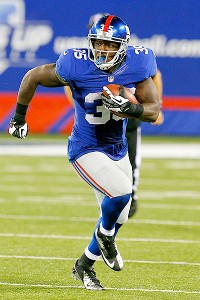 Jim O'Connor/US Presswire
Andre Brown
QUARTERBACK (2)
In: Eli Manning, David Carr.
Out: Ryan Perrilloux.
RUNNING BACK (5)
In: Ahmad Bradshaw, David Wilson, Henry Hynoski, Andre Brown, Da'Rel Scott.
Out: D.J. Ware.
My thinking: As I said last Tuesday, I think the Giants like Ware's ability to catch and trust him to protect Manning on third downs. But Brown's performance on Wednesday night showed me again that he can catch and run with power. I have Scott making the team with his potential and ability to help on special teams. Ware played sparingly as the third-down back on Wednesday and has only had one carry in the last two preseason games.
I don't know what to make of that, but here's what Tom Coughlin said about Brown's and Scott's performances on Wednesday: "(Brown) played well. He ran hard. He made some good, solid, powerful runs. He missed a cut here or there. But I liked the way in which he played and the effort he displayed and speed with which he played. He caught the ball coming out of the backfield, as did Da'Rel.
"They both played a lot of special teams and showed speed and some power on special teams, which is a real plus," Coughlin added. "I think both of them distinguished themselves."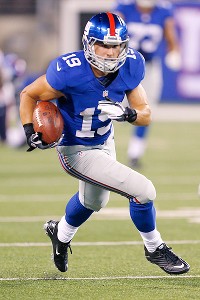 AP Photo/Julio Cortez
David Douglas
WIDE RECEIVER (6)
In: Hakeem Nicks, Victor Cruz, Domenik Hixon, Rueben Randle, Ramses Barden, Jerrel Jernigan.
Out: David Douglas, Isaiah Stanback, Dan DePalma.
My thinking: I'd love to see Douglas make the squad. He impressed with his athleticism, hands and punt-returning ability. And maybe I'm wrong about the Giants keeping last year's third-round pick, Jernigan. I don't know if Douglas will make it through waivers to the practice squad. But with the injuries at defensive tackle and cornerback, this was one of my toughest cuts.
TIGHT END (3)
In: Bear Pascoe, Martellus Bennett, Adrien Robinson (Travis Beckum is on PUP).
Out: Larry Donnell.
OFFENSIVE LINE (9)
In: LT Will Beatty, G Kevin Boothe, C David Baas, RG Chris Snee, RT David Diehl, T Sean Locklear, T James Brewer, G Mitch Petrus, C Jim Cordle.
Out: T Matt McCants, OL Selvish Capers, OL Chris White, G Stephen Goodin.
My thinking: Beatty sounds like he could be ready, but the Giants have to protect themselves in case his back flares up again. After seeing Cordle play center and guard on Wednesday night, I have him on the squad.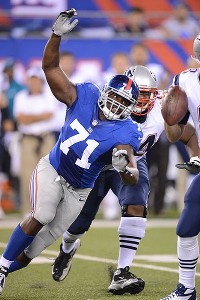 AP Photo/Evan Pinkus
Adewale Ojomo
DEFENSIVE LINE (8)
In: DE Justin Tuck, DE Jason Pierre-Paul, DE Osi Umenyiora, DT Linval Joseph, DT Rocky Bernard, DT Marvin Austin, DE Adewale Ojomo, DT Marcus Thomas. (DT Chris Canty is on PUP).
Out: DE Adrian Tracy, DT Shaun Rogers, DT Markus Kuhn, DE Matt Broha, DT Dwayne Hendricks, DE Craig Marshall.
My thinking: Ojomo secured a roster spot Wednesday night with his performance. I want to keep Tracy but the injuries at defensive tackle leave me little choice. Perhaps Tracy (hamstring) can go on IR, but he did say that he thinks he can be ready for the opener. I'd like to keep one more DT, like Hendricks or Kuhn, but am hoping to sneak Kuhn onto the practice squad and perhaps Rogers will re-sign when he is cleared from his blood clot. All these moves are done with the thinking that Austin (back) will eventually return or is designated as the IR guy who can come back after eight weeks.
LINEBACKERS (8)
In: OLB Mathias Kiwanuka, OLB Michael Boley, OLB Keith Rivers, OLB Jacquian Williams, MLB Mark Herzlich, MLB Chase Blackburn, OLB Spencer Paysinger, OLB/MLB Greg Jones.
Out: MLB Jake Muasau.
My thinking: I'm keeping eight linebackers with special teams in mind. And maybe I'm just a linebacker-type of guy. I like my linebackers, what can I say? I like what Paysinger and Jones can do on special teams on punts and kickoffs, and their potential for the future down the road. But I could very well be wrong here and the Giants might cut one of these players.
DEFENSIVE BACKS (9)
In: CB Corey Webster, CB Terrell Thomas, CB Prince Amukamara, CB Jayron Hosley, S Antrel Rolle, S Kenny Phillips, S Will Hill, CB Michael Coe, CB Justin Tryon (S Tyler Sash is on the suspended/reserve list for the first four games).
Out: CB Bruce Johnson, CB Dante Hughes, CB Laron Scott.
My thinking: I'm keeping nine defensive backs, including Thomas. But I would designate Thomas as the IR guy who can come off IR after eight weeks and hope that Coe and Tryon can do a solid job until Amukamara (ankle) returns. Hosley (toe) sounds like he is nearing a return. I could see the Giants keeping one more cornerback as insurance, which would mean cutting somewhere else.
SPECIAL TEAMS (3)
In: K Lawrence Tynes, P Steve Weatherford, LS Zak DeOssie.
So, what do you guys think? Tell me who you are keeping and cutting below.