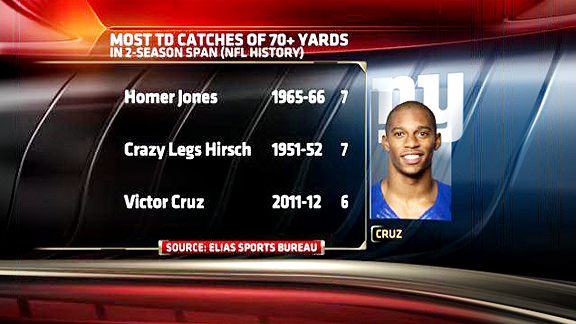 New York Giants quarterback Eli Manning showed the Washington Redskins and their rookie sensation, Robert Griffin III, that he's still got the best touch in the NFL when it comes to leading a fourth-quarter comeback.
His 77-yard touchdown throw to Victor Cruz also exposed one of the Redskins' biggest weaknesses.
Let's take a closer look at the stats from the key play Giants win.
Eli does it again
This marked the eighth game-winning drive for Manning in the fourth quarter or overtime since the start of last season.
The touchdown was the longest fourth-quarter, go-ahead touchdown pass of Manning's career.
Manning's 197 touchdown passes are two shy of the Giants' team record, held by Phil Simms.
Most TD Receptions of 70+ Yards
Last 10 Seasons
It was the second time this season that he connected with Cruz on a fourth-quarter touchdown throw of that length, and the sixth time Cruz has caught a 70-plus yarder for a score since his debut last season.
Manning had an 80-yarder to Cruz against the Buccaneers in Week 2 earlier this season. That one was a game-tying score. This one would be for a win.
Sunday's score gave Cruz a touchdown reception in four straight games, the longest streak by a Giants player since Hakeem Nicks in 2009.
Washington's monumental issue
The Redskins entered the day having allowed 34 completions of 15 yards or longer, the most in the NFL.
Manning connected three times on five attempts of that length, the other two going for a combined 52 yards.
It wasn't Eli's best day
Prior to the touchdown throw, Manning was on the verge of his third straight game without a touchdown pass against the Redskins.
Eli Manning vs Redskins
Last season, he threw four interceptions in two defeats and on Sunday, he threw two more before the winning score.
Manning was much more effective in shotgun than he was under center.
The chart on the right shows his difference in performance by alignment.
The Redskins have had their share of issues against quarterbacks in shotgun. Entering the day, they had allowed opponents to complete 65 percent of their throws in shotgun, the ninth-highest success rate in the NFL.
Stat of the Day
Manning improved to 26-5 all-time in October. Elias tells us that is the best October record for any starting quarterback since the NFL-AFL merger in 1970.