It would have been easy to be bitter. A gruesome broken leg made Leon Washington the loser in a contract standoff with the Jets and, once he had healed enough to show signs of a return, the team traded the running back during the NFL draft this spring.
The Jets traded Washington all the way across the country, away from teammates who had become his closest friends in four years in New York, to Seattle and an uncertain future.
But if you listen to Washington, he doesn't sound resentful. He has faith that this was the way things were supposed to work out. Besides, if he hadn't been in Seattle he wouldn't have had two extraordinary kick returns for touchdowns against San Diego -- and that's a heck of a story to tell his young children as they get older.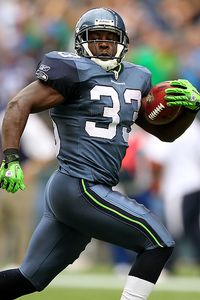 Otto Greule Jr/Getty Images
Leon Washington averages 33.7 yards per kickoff return, just ahead of the Jets' Brad Smith for the NFL's top mark this season.
"Dad broke his leg, and so many people think that's an injury that you can't come back from, especially at my position, so it's something they can read and use as motivation to never give up, always face adversity and fight through it," Washington started.
"Secondly, it shows how well I'm blessed, and how hard I fight as an individual. I have so much help from my wife and we fought through this thing. Just the opportunity to play football again, it says a lot that it's like a period in that short book I was writing for my kids to read that their dad is back."
Their dad is back. He has 17 carries for 59 yards and three catches for 28 yards this season, but his real value to Seattle is as a special teams player. He has returned 19 kickoffs for 640 yards and two touchdowns in seven games for the Seahawks, who will host the Giants this weekend.
Seattle traded for him knowing that his compound fracture wasn't the kind of injury a running back usually recovers from. Seattle coach Pete Carroll said the medical staff poured over the information about Washington and talked to people about what kind of player he was, coming away with the confidence to take the risk.
"He's a remarkable kid," Carroll said. "Just a great, great competitive character and we love him. And he would not let this get in the way, and he's back to full speed. It's taken him some time to really be at full go, but he's back now and he's a big factor on our football team."
Washington still has work to do on the football field. He'd like to get stronger, and he could contribute more on offense.
"Every week, I go out and try to prove to myself that 'OK, can I do this move still or that move still or can I break away from guys like I used to?'" Washington said. "Every week, I felt better and better in doing things and trying to prove to myself."
He admits that sometimes he thinks about what might have been if he had stayed with the Jets. While Seattle is 4-3 and at the top of the NFC West standings, Washington sees that the 5-2 Jets have a good thing going this season. Still, he isn't angry about the way things have ended up.
"How I look at it is that the Jets didn't have anything to do with me breaking my leg," Washington said. "That was football, and they didn't have anything to do with that. Thank God I got another opportunity to go out there and play the game that I so love to do."