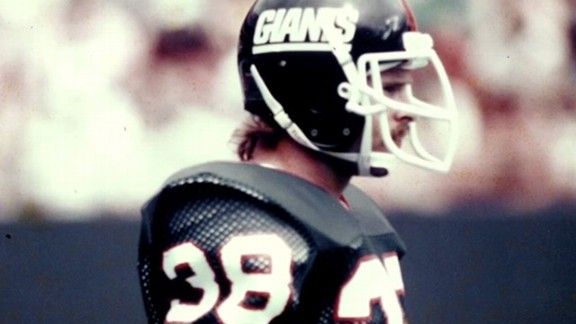 ESPN Films
The NFL draft's John Tuggle not only made his team against all odds, he left a lasting impression.
The Giants own the second-to-last pick in this week's draft.
Back in 1983, the Giants did own the last pick of the draft. ESPN's latest 30 for 30 short film is called the "Irrelevant Giant" and is about John Tuggle, 1983's Mr. Irrelevant, who was taken by the Giants at the end of that draft.
Tuggle's story is told brilliantly by Bill Parcells, who gets emotional about one of his all-time favorite players.
Here's the description of the short film: "John Tuggle, the 1983 NFL draft's Mr. Irrelevant, was anything but irrelevant to legendary coach Bill Parcells. In The Irrelevant Giant, by directors Shaun Silva and Don Lepore, the normally tough and gruff coach takes viewers on an emotional journey as he recounts his own rookie season as the head coach of the New York Giants and the year he came to know this very special athlete who made his team against all odds. Tragically, only one year later, a rare and unbeatable form of cancer would change both John's and Coach Parcells' destinies leaving behind a lasting impact on teammates and the life of the coach who understands just how fragile life can be."
You can watch and learn more about the short film here.
Cruzing toward a deal: In case you missed it, co-owner John Mara said last night that he believes a deal will get done with wide receiver Victor Cruz.
Fellow restricted free agent Andre Brown signed his second-round RFA tender.
Chance takes a bite out the Apple: When the Giants pick 19th in the first round, Chance Warmack may be long gone. But the coveted Alabama guard recently visited with the Giants. The huge offensive lineman with an even bigger appetite enjoyed a night with offensive line coach Pat Flaherty at Del Friscos. Read about what he thought of the Giants and New York here.

Listen to the complete interview:

In da studio: Finally, I got a chance to break down the Giants, Cruz's contract and who Jerry Reese might pick at 19 in studio at ESPN New York 98.7 FM. And they played some Biggie for me while I was visiting!
Just wondering ... with the draft two days away, what's your feeling on what the Giants will do at 19? Let us know.