EAST RUTHERFORD, N.J. -- If there is a formula in the running game that optimizes yardage but limits turnovers, the Giants may have hit upon it in a 24-20 win over the visiting Jaguars. A week after Ahmad Bradshaw had trouble keeping hold of the ball, the starting job officially reverted back to Brandon Jacobs, but in effect the two split time fairly evenly and averaged 5.2 yards a carry.
"Coming from our two-game losing streak, we really needed to win it, with the race with the other teams for the top of the NFC," Jacobs said.
Jacobs had 14 carries for 87 yards, Bradshaw had 9 carries for 49 yards and four receptions for 34 yards. Bradshaw also had a two-point conversion to tie the game at 17-17 in the fourth quarter.
"It worked out good," Bradshaw said. "Like I said, all we can do is run the ball."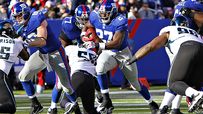 Jim O'Connor/US Presswire
Brandon Jacobs got his old starting job back -- and picked up 87 yards on 14 carries.
There is work, and there is friendship, and Jacobs and Bradshaw have apparently worked out a formula for that as well.
"We have a very, very strong relationship and it's bigger than football to the both of us," Jacobs said. "And guys in the predicament that we're in end up not liking each other."
Bradshaw pointed out that this isn't a new setup, that last year he ran behind Jacobs and was able to do it well. True, it was before he'd been named the starter this season, which seemed hard for Jacobs to adjust to at first.
"I want him to be as successful as possible and I want to be the same so I just root him on and keep going," Jacobs said.
Giants coach Tom Coughlin said he was pleased with the way the running game worked, and even praised Danny Ware, who was in for a few series and returned kicks with Will Blackmon (chest) inactive.
It started with the spark Jacobs provided.
"He did [contribute] and I thought Bradshaw did, too," Coughlin said. "And I liked the third down pickup that Danny Ware came in and made for us on the option route, and Danny was used on kickoff return as Blackmon was inactive, and he did a nice job of that as well. So I think that all three guys really contributed."
Bradshaw said being able to get the conversion in the fourth quarter really energized the backs, and the team overall.
"It was definitely a statement play," Bradshaw said. "We knew we were going to score so we were thinking about that two-point play before the touchdown. We executed really great when we had to. We are really excited about this win, especially coming from behind. This win is a huge confidence builder for this team."