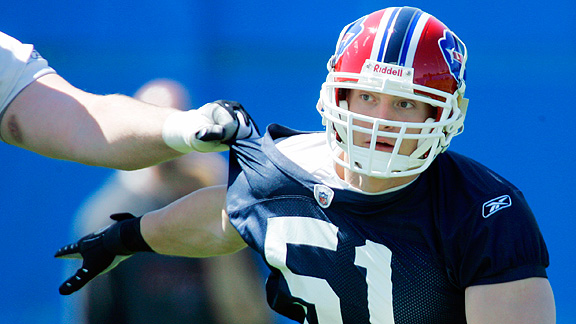 AP Photo/David Duprey
Bills linebacker Paul Posluszny had 151 combined tackles and 2.0 sacks last season.
There are several people who think Buffalo linebacker Paul Posluszny is the guy who can help the Giants fill their need at linebacker.
Posluszny, who has played four seasons for the Bills, could become an unrestricted free agent if the new collective bargaining agreement allows fourth-year players to become UFAs.
While Posluszny says re-signing with Buffalo is a priority, he has thought about a possible reunion with Perry Fewell.
Posluszny played for the Giants defensive coordinator when Fewell was Buffalo's interim coach and defensive coordinator.
"Definitely, because of that connection," Posluszny said when asked in an interview on SiriusXM NFL Radio about whether he has thought about the Giants as a potential option in free agency. "I love Coach Fewell and the type of defense that he ran when we were in Buffalo, you know, had a good relationship together."
"I have an uncle that lives in the New York area and he just sent me a text the other day saying he's read on the internet that the Giants is a possible spot for me," the linebacker continued. "So yes, there's a lot of interesting possibilities out there and the one thing about free agency, you want to know your true value… But, I mean, the Giants, along with several other teams, there are some interesting opportunities out there, that's for sure."
The Giants have Jonathan Goff at middle linebacker but Posluszny is coming off a season in which he had 151 combined tackles and 2.0 sacks. In his last three seasons, Posluszny has had 110 or more combined tackles each year.
While New York may be an intriguing option for Posluszny, he may end up staying in Buffalo.
"I said from the start, as soon as this past season ended, that I wanted to be a Buffalo Bill," he said. "I think they would be interested. I've just got to make sure that they feel like I fit in their long term plans, you know, with the type of defense they want to run and the personnel they want to have on the field."
"So I hope that's the case and I hope we can get a deal done, but it's just one of those things, a lot like everything else surrounding this lockout, just a lot of uncertainty and a lot of back and forth. So just like everyone else I'm anxiously waiting for this thing to end so we can get going."