Steve Smith has only been an Eagle for about a week, but he's ready to completely turn the page on the New York chapter of his life and immerse himself in the other side of the heated Giants-Eagles rivalry.
"I used to hate the Eagles, now I don't like the Giants," Smith said in an interview with the New York Post. "I've still got ex-teammates that are friends there, but I definitely want to get on that field for the Eagles now. I want to say I won a Super Bowl for both teams."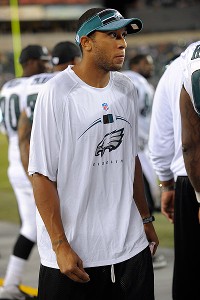 AP Photo/Michael Perez
Steve Smith looks forward to making his Eagles debut after
four seasons with the Giants.
In the interview, Smith reiterates that the Giants had plenty of chances to re-sign him but that the Eagles wanted him more.
"It was how many days since free agency [began] that I was out?" Smith said. "The Eagles made a great offer. I don't know ... the Giants had a lot of time. Let's put it that way."
Smith signed with Philadelphia on Aug. 11, 2½ weeks after being declared a free agent.
"The Giants might have [taken me for granted], but the Eagles didn't," Smith said.
As for his surgically repaired knee, Smith said he hasn't had any setbacks.
"[The repaired knee] feels a little weaker than the other one, but it feels great when I'm running and cutting," Smith said. "I haven't had any setbacks, so hopefully I can continue on this pace."