You might not know it to see them go at each other in Giants practice, but Will Beatty might get the biggest charge from having Osi Umenyiora back at practice. Beatty, who takes over at left tackle this season, has been using the unrelenting defensive end to gauge his own progress since his rookie year in 2009.
"He was already set and established, so I was using Osi to compare myself against everybody else that I go against," Beatty said. "If I can have a good week of practice against you, I know I can do well in a game. I am not afraid of somebody beating me outside because I haven't seen that speed."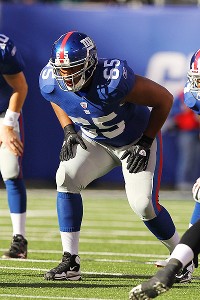 Al Bello/Getty Images
Will Beatty said matching up with Osi Umenyiora in practice has helped him grow as a lineman.
You can see evidence if you watch them. A word here, a particularly long look after a tackle during team drills there.
"Osi usually gets them going," Giants coach Tom Coughlin said. "It's very competitive. It's been healthy. It's been real good. They've been doing that since Will got here as a rookie. Probably someday Osi's going to take credit for Beatty."
Coughlin said he saw a little more confidence out of his soft-spoken tackle, but needs to see more. Now that Beatty is taking one of the most important starting jobs that any team has to offer, he'll need the refining a veteran like Umenyiora has to give.
When Umenyiora was not practicing and squaring off with Jerry Reese about whether his contract should be reworked, Beatty was up against second-year defensive lineman Jason Pierre-Paul.
And that seems to have worked out well for both. As Beatty pointed out, in the first preseason game against Carolina, Pierre-Paul had two sacks and Beatty didn't let one up. Coughlin was pleased to see two young players with increased responsibilities play up to expectations.
"They've gone really well against each other," Coughlin said. "They both have played, competed, and done well -- very well -- in practice. That helps us advance."
Yesterday, the second practice that Umenyiora took part in this training camp, he wasn't available for interviews. But he did seem completely at home, laughing with Justin Tuck while the second and third strings were called in during team drills.
Umenyiora was never easy on Beatty, but he has clearly helped to make him a better offensive lineman.
"He gave me the speed pass-rush, he didn't take it easy on me," Beatty said. "I got thrown into the fire basically."
It's the kind of thing he can resent and be grateful for, all at the same time.