In this corner: a 6-foot, 187-pound, fourth-year defensive back from Memphis, Tenn.
In this corner: a 6-2, 200-pound, second-year wide receiver, also from Memphis.
With apologies to Michael Buffer: Let's get ready to rumble!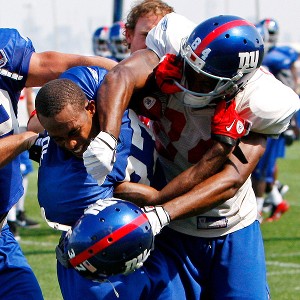 William Perlman/The Star-Ledger/US Presswire
Michael Coe (left) and Duke Calhoun got after each other on Saturday instead of saving it for the Bears on Monday night.
That's right, defensive back Michael Coe and wideout Duke Calhoun went at it in the middle of practice Saturday, the first significant fight in Giants training camp.
Coe and Calhoun got tangled up on a play in the end zone and grappled a bit before both ripped off each other's helmet and threw punches. Calhoun hit Coe with Coe's helmet after ripping it off him.
Coaches separated the two but they continued to woof at one another.
A play later, Coe covered Calhoun and started yelling, but Calhoun smartly didn't let it escalate.
Earlier in practice, WR Devin Thomas came up and pushed S Tyler Sash in the back after Sash bumped Thomas while defending a pass in noncontact drills.
"Half the time I don't even see it," said head coach Tom Coughlin, who "doesn't care" for the rough stuff in practice.
OSI OK: Coughlin said Osi Umenyiora was at the Giants' practice facility and "in good spirits" a day after his knee surgery. Coughlin said the surgery went well.
THOMAS SHOULD BE FINE: CB Terrell Thomas sat out practice Saturday with a "sore leg," according to Coughlin. Thomas was on the sideline with a wrap on his left knee/upper leg during practice. Coughlin expects him to play Monday.
NO KENNEDY YET: Vikings DT Jimmy Kennedy has not yet signed with the Giants, according to Coughlin. Kennedy, a veteran DT from Yonkers, was rumored to have signed with the team and semi-confirmed it on Twitter, but Coughlin said he hadn't seen anything on it.
START 'EM UP: Coughlin also said he expected the starters to play 25-30 snaps Monday against the Bears, with the second unit getting a "big share" of playing time and the third unit fewer minutes than Saturday.
David Carr will be the backup quarterback Monday.
HIGHLIGHTS, LOWLIGHTS:: Eli Manning had a strong completion to Hakeem Nicks in 7-on-7 drills and also hit Mario Manningham for a long touchdown in 7-on-7s.
For the second straight day, third-string quarterback Ryan Perrilloux wore a camera on top of his helmet. Coughlin said the staff wanted to see things from Perrilloux's point of view to make sure he was going through the correct reads.