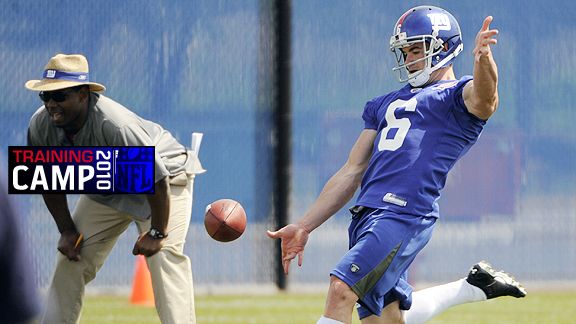 AP Photo/Bill Kostroun
Matt Dodge, a seventh-round pick, will take over for 22-year veteran Jeff Feagles.
Our final installment of the training camp preview is on the special teams. Camp starts on Sunday and we'll have plenty coming in the blog.
I will be talking to Tom Coughlin on Thursday afternoon as the head coach makes his one-on-one rounds with the army of Giants beat writers all morning and day. And then I have a chat scheduled for 2 p.m. so stop by and I will tell you what the coach had to say.
Unit: Special teams
Depth Chart: (K) Lawrence Tynes. (P) Matt Dodge. (KR/PR) Ahmad Bradshaw, Sinorice Moss, Mario Manningham, Aaron Ross, Adam Jennings, Domenik Hixon (IR).
On the Bubble: Jennings.
Player to Watch: Dodge. The seventh-round pick has big directional shoes to fill with Jeff Feagles' retirement.
Wild Card: Ross. He returned punts in college and the Giants say they will take a look at Ross to potentially replace Hixon on punt returns.
Analysis: The Giants special teams was rocked in the offseason with Feagles' retirement and then Hixon's season-ending knee injury suffered during the first practice at the New Meadowlands Stadium. Now a rookie punter, Dodge, has to replace one of the greatest punters in history. Dodge competed against Australian Rules kicker Jy Bond in the offseason before Bond was waived to make room for the Giants' rookie draft picks. Feagles said he will be up at camp for a bit to mentor Dodge.
The Giants will hold a camp-long audition to find Hixon's replacement with Manningham, Moss, Ross and Jennings likely competing for the spot. There's always a chance the team can add another team's camp casualty as well. Moss averaged 6.7 yards on 11 punt returns and 18.2 yards on six kickoff returns last year.
Bradshaw likely will see kick-returning duties with Hixon out. Tynes returns as the kicker and does not have any competition as of right now after the team waived kicker Sam Swank last month to make room for safety Chad Jones after the rookie signed.