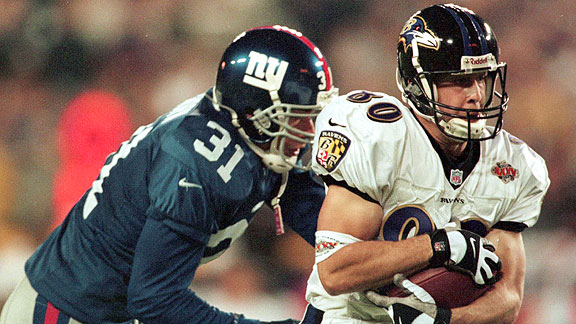 Andy Lyons/Getty Images
Brandon Stokley scored the Ravens' first TD in their Super Bowl XXXV blowout of the Giants.The Giants added veteran receiver Brandon Stokley on Thursday to likely compete for the slot spot.
Stokley, 35, had 31 receptions for 354 yards in 11 games with the Seahawks last season.
His best season came with Peyton Manning in 2004, when Stokley had 68 catches for 1,077 yards and 10 touchdowns for the Colts. Giants fans might remember him from Super Bowl XXXV on Jan. 28, 2001, when he had three catches for 52 yards and one touchdown for Baltimore against the Giants.
Domenik Hixon and Victor Cruz have been auditioning for the third wide receiver spot as the team looks to fill the void left by Steve Smith's departure as a free agent. NFL Network's Jason LaCanfora reported that the Giants worked out T.J. Houshmandzadeh and former Jet David Clowney along with Stokley on Wednesday.
"I like it," Hixon said of playing the slot. "Working inside, watching Steve do it for a long time and do it well. I'm waiting for my opportunity."
"Just kind of navigate through some of the junk [on the field]," Hixon said of what playing in the slot requires. "You got a lot more junk in [there]. Linebackers trying to put their hands on you, DBs, little things like that. Just traffic."
Cruz got the first crack at the slot on Sunday but dropped a pass on a 3rd-and-8 on the team's first drive. Cruz was only targeted twice the entire game. Hixon finished with two catches for 21 yards as the team employed some four-wide sets.
With Stokley, the Giants have seven wide receivers.
To make room for Stokely, the Giants waived defensive end Justin Trattou , who was added to the roster last week to provide depth with Justin Tuck out.
Tuck could play this week against the Rams. Stay tuned.