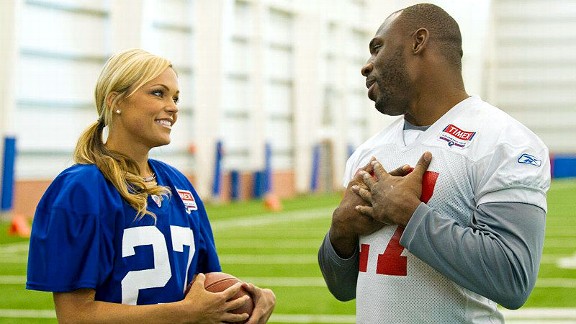 Courtesy of Timex Sports
Jennie Finch looks simply divine wearing Brandon Jacobs' No. 27.Well, not exactly -- but Jennie Finch was at the Giants' Timex Performance Center on Wednesday, as part of a cross-sponsor event prior to her running the ING New York City Marathon next month.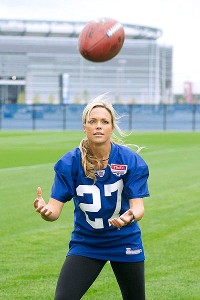 Courtesy of Timex Sports
Finch is quite the catch. (Sorry, we couldn't help ourselves.) The former Olympic softball gold medalist donned a blue Giants jersey with her name on the back. She first chatted with several players -- including running back Brandon Jacobs, whose number she was wearing -- after practice at the team's training facility.
Finch then played receiver and looked very comfortable catching a football, hauling in several passes from tight ends Jake Ballard and Bear Pascoe. Afterward, she turned her attention to placekicking, with punter Steve Weatherford holding, and on her third try she connected on a 20-yard field goal.
Finch said it was not only her first time at a football practice, but ever on a football field.
"I've been on many baseball fields, but this was incredible," said Finch, who now hosts softball camps across the country and recently released her first book, "Throw Like a Girl: How to Dream Big and Believe in Yourself."
So any advice from the fellas?
"They just said good luck," Finch said. "They said they couldn't run past two or three miles. I said, 'Hey, I was there too.'"
Finch recently completed her first half-marathon, and the NYC Marathon on Nov. 6 will be another first. Her endorser, Timex, will donate $1 to New York Road Runner's Youth Programs for each runner she passes.