EAST RUTHERFORD, N.J. -- Osi Umenyiora can accept criticism when it comes from the fans and football media.
He chalks that up to part of life as a professional athlete.
But Umenyiora takes issue when that criticism comes from ex-teammates. Particularly when those ex-teammates question the toughness of injured players.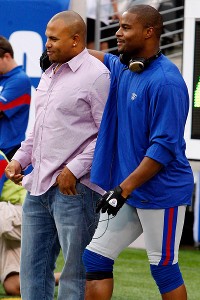 William Perlman/US Presswire
It sounds like Antonio Pierce and Osi Umenyiora have a little catching up to do.
In recent weeks, former Giants Michael Strahan and Antonio Pierce have done just that, calling out players for not taking the field.
"It's very, very disappointing. I can understand when the media does it. I'm OK with that; that's their job," Umenyiora said Friday. "These other guys ... they've played the game before so they know what it's like. So to hear them come out and say the things that they've said, it's very, very disappointing.
"It makes me question how real and how authentic they really are, because they know better than to come out and say some of the things that they've said."
Pierce, the Giants' former defensive captain, said after last Sunday's game against Seattle that Justin Tuck and Brandon Jacobs should not have been on the sideline unless their injuries required surgery. Tuck sat out with groin and neck injuries and Jacobs was sidelined with a sprained knee.
"The Giants need their guys out there," Pierce said on ESPN Radio's "Mike & Mike in the Morning."
"Justin Tuck, Brandon Jacobs ... they [the Giants] already have enough injuries, but how long can you go throughout the NFL season without some of your top players?
"To me if you don't have an injury that needs surgery, or that's severe, you need to be out there," added Pierce, who is now an ESPN NFL analyst. "I don't really know and I don't want to question guys, but if you are one of the leaders on the team, which Brandon Jacobs and Justin Tuck are, and you say, you know what, the Seattle Seahawks, maybe we don't need to play this game and you miss out, that is what's going to come back to bite you in the tail."
Pierce tweeted later Monday: "Love ya @JustinTuckNYG91 ... Get your a-- on the field .. You know how it's done!!! #Captain."
Umenyiora said on Friday he would address the issue with Pierce.
"Anytime I see whoever it is that comes out and says these things, I have to let them know that I think that that's just ridiculous," Umenyiora said. "Because all of those guys that are saying these things, they went through the same things that we went through. And, you know, it's crazy for me. They know better."
Many were surprised that Pierce would question a player with a neck injury because the former middle linebacker's career was cut short due to a similar ailment.
"You can't question a guy's toughness. You don't know what he's going through on the football field. And if you go out there and you don't perform, if you go out there and you don't play up to your abilities ... nobody cares that you're injured," Umenyiora said. "So you have to go out there and play when you feel [you're] able to go out there and contribute. For these guys to go out and attack Brandon and Justin or other guys like that, it's just ridiculous."
When discussing the matter on Friday, Umenyiora was unaware that Strahan had been critical of Tuck earlier this season.
During the Giants' Week 3 win at Philadelphia, Tuck had to briefly leave the game due to his neck injury. Strahan, now an analyst on Fox, tweeted during that game that the Giants needed Tuck on the field.
"I luv u @JustinTuckNYG91 but unless u R missing a limb U need 2 B in ths game," he wrote on his verified Twitter account. "Everytime the Eagles R inside Giants 40 u need 2 B out thr."
When told about Strahan's comments, Umenyiora said, "He knows better than that. He's missed a couple of games also with injuries.
"Strah's my boy, though, man, I don't know where that's coming from. I'll talk to him and I'll see what happened with that."
Umenyiora understands that ex-players who work in the media are expected to stir up controversy. Umenyiora has been asked by some television producers to say controversial things during interviews.
But that doesn't mean the comments from Pierce and Strahan are any easier to stomach.
"It's disappointing," Umenyiora said, "but we'll move on."