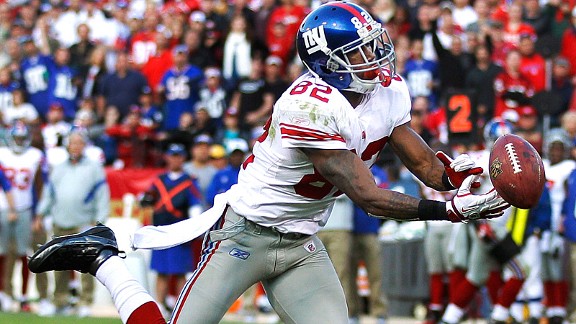 AP Photo/Marcio Jose Sanchez
If Mario Manningham makes this catch, the Giants can force OT with the PAT.Giants wide receiver Mario Manningham was all alone in the fourth quarter when a long pass glanced off his fingertips. But in the locker room after the game, Manningham was surrounded by media.
They wanted to know what happened.
"I have to make that," Manningham lamented. "I have to come down with that."
The play occurred as the Giants were trying to make any fourth-quarter comeback in a season full of them. Manningham got behind rookie cornerback Chris Culliver with 2:57 left and the Giants trailing 27-20. Manningham would have easily scored a 42-yard touchdown if only he gathered in Eli Manning's slightly overthrown pass.
Manningham was questionable before the game when his knee swelled on Saturday. Manningham played and made a number of fingertip grabs. He caught six of 10 passes Manning threw his way for 77 yards and one touchdown.
As for the one that got away, Manning tried to wrestle the blame away from his wide receiver.
"It seemed close. It is one of those you will look at [on] film and hate yourself for it," Manning said. "He was so open."
Despite that miss, the Giants remained confident they would tie up the game. After the overthrow, Manning completed his next three passes to get the Giants down to the 49ers' 10-yard line with 1:53 left. But the Giants turned the ball over on downs and turned the game over to the 8-1 49ers.
"We thought we were going to come out with a touchdown," Manningham said. He played alongside the hampered Hakeem Nicks, who was listed as questionable all week with a strained hamstring. Nicks caught only two passes, but one of them went for a crucial 32-yard touchdown which cut the 49ers lead to seven in the final quarter.
Slot receiver Victor Cruz was the team's leading receiver Sunday with six catches for 84 yards, and often he had his way with the 49ers' best cornerback, Carlos Rogers. "I got the best of him throughout the game," Cruz said.
Rogers, however, was able to pick off an underthrown effort tossed to Cruz for his first of Rogers' two interceptions. On the play, Rogers stayed underneath Cruz and intercepted Manning's pass.
Overall, the Giants made a number of terrific catches, but the one that got away will likely haunt them.
"You have to explain it to me," Giants coach Tom Coughlin said. "Sometimes they catch 'em, sometimes they don't."