Niners defensive end Justin Smith usually saves his jawing for the officials who never seem to flag opposing linemen for holding calls. At least that's the way Smith sees it.
But on Sunday, Smith actually had a few laughs between snaps with Giants center David Baas, a teammate of Smith's for three seasons in San Francisco.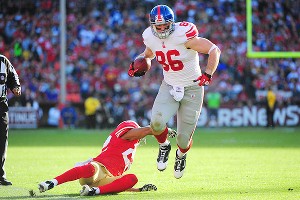 Kyle Terada/US Presswire
Bear Pascoe caught two passes for 23 yards.
"Loved the collisions with Justin Smith today," Baas said. "We had a couple of laughs out there."
While Baas voice dripped with disappointment after the narrow 27-20 loss to his former team, he admitted that he was happy for his erstwhile teammates. After spending his first six seasons in San Francisco, Baas signed a five-year, $27.5 million deal with the Giants in August.
"I'm not glad we lost the game, but I'm glad for them," Baas said. "They deserve this success."
Another former 49er probably had different emotions. Tight end/H-back Bear Pascoe grew up on a cattle ranch in Eastern California as a lifelong 49ers fan. He then attended Fresno State and was drafted by his favorite team in the sixth round in 2009.
But his 49ers tenure ended badly. After getting constantly badgered by former 49ers tight ends coach Pete Hoener, Pascoe was released and then picked up the Giants. Pascoe's pent-up frustration seemed to come out during a 14-yard reception in the third quarter.
"It felt great," Pascoe said. "It kind of gave us a spark and got the guys motivated."