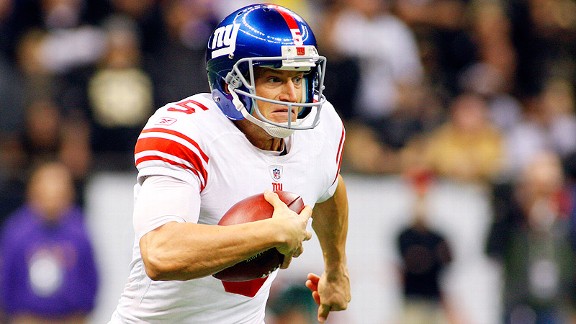 John David Mercer/US Presswire
Steve Weatherford's mad dash went nowhere.NEW ORLEANS -- Steve Weatherford admits he got caught up in the moment.
Trailing 35-10 midway through the third quarter, the Giants faced a fourth-and-7 at their own 33-yard line. Coach Tom Coughlin called for a fake punt.
But when New Orleans' special teams unit came out in its punt-return look, Coughlin tried to change the call from the sideline to a traditional punt.
Instead, Weatherford took the snap and darted to the right in an attempt to pick up a first down. He didn't get far.
A pair of Saints defenders smothered him at the line of scrimmage for a turnover on downs, igniting Coughlin on the sideline.
"It was a called fake punt. We called it off because we didn't have the look we wanted, and Steve claims he didn't get the [changed call]," Coughlin said. "(Tyler) Sash turned around and waved right in his face ... and he still took the ball and ran, which was foolish, a very bad play on his part."
Weatherford took responsibility for the miscommunication, claiming his adrenaline distracted him from properly reading the signal.
"I was so excited to get the call and run the fake that I wasn't paying attention to us checking off and planning on punting the ball," Weatherford said. "It was 100 percent my fault. I should have been paying attention to see if we were running it or not.
"I got excited and caught up in the moment and I just didn't catch the call. It's my fault, plain and simple."
This isn't the first time Weatherford has surprised his coaching staff with a fake punt. Last year, as a member of the Jets, he tried to convert a fourth-and-17 from his own 20-yard line and came up just short.
The play infuriated Jets special teams coordinator Mike Westhoff, who said Weatherford made the call for himself.
Monday's gaffe was part of an eventful and uneven night for the Giants' special teams.
On the game's opening drive, the Giants' foiled New Orleans' fake field goal attempt, dropping Jimmy Graham two yards short of a first down.
The half ended when Lawrene Tynes came up slightly short on a 61-yard field goal attempt.
Punter returner Aaron Ross dodged a critical mistake when his fumbled punt return was recovered by Prince Amukumara at the Giants' 17-yard line.