The Giants were down to just one timeout midway through the third quarter -- not exactly an ideal situation.
How'd they get there?
The Giants called timeout with 8:59 to play in the third quarter, right after Eli Manning hooked up with Hakeem Nicks for a 51-yard reception. This left them with one timeout, because Tom Coughlin lost a challenge -- his second of the game -- after a Donald Driver reception.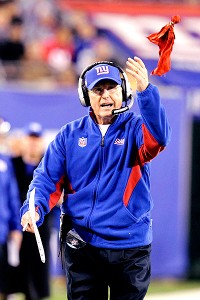 John O'Boyle/The-Star-Ledger/US Presswire
Tom Coughlin lost two challenges on Sunday.
Aaron Rodgers hit Driver for a first down near the sideline. Coughlin challenged it, thinking Driver was out of bounds. But the officials disagreed, making Coughlin 0-for-4 on his last four challenges.
"I'm not trying to get fined or anything, but it was just amazing how some of those things didn't get turned over," Victor Cruz said. "We felt on the sideline a lot of those calls were kind of iffy and tough to rule."
Coughlin lost his first challenge of the day in the first quarter, after Manning found a diving Jake Ballard in the end zone. Referees ruled Ballard out of bounds. He got one foot in. At issue was whether he dragged his knee in, too. The refs ruled he did not.
Some players were upset when officials flagged Jacquian Williams for illegal contact early in the fourth, negating Dave Tollefson and Jason Pierre-Paul's co-sack of Aaron Rodgers 11 yards behind the line of scrimmage.
"Don't get me started on calls today, please," defensive captain Justin Tuck said. "But it is frustrating. ... I didn't see illegal contact but I don't get paid to make those calls."
Veteran Deon Grant said he'd never been in a game where calls seemed so one-sided.
"Never, not in my life. Not in my NFL career, college career, high school, Pop Warner," Grant said. "But you got to keep playing. We had an opportunity to stop them after that and during that."
And they didn't. Can't blame the refs for that.