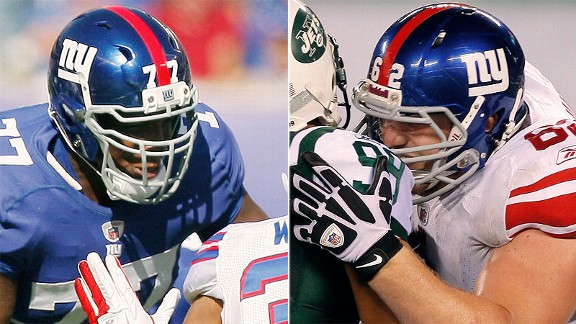 US Presswire
Backups Kevin Boothe and Mitch Petrus have shored up the Giants' depleted offensive line.A makeshift offensive line has given the Giants' rushing attack new life.
With backups Kevin Boothe and Mitch Petrus at center and left guard, respectively, the Giants have rushed for 100 yards in back-to-back games for just the second time this season following last night's 110-yard output in the 37-34 win over Dallas. David Diehl has also been back at left tackle for the last three weeks after playing the previous 10 at left guard.
"The main thing is we've been more consistent the last couple of weeks," Boothe said on a conference call Monday. "The consistency we've been searching for the entire year has been, I think, [on] better runs, better run plays, throughout the year. Compared to the last couple of weeks, we've managed to become more consistent in cutting out a lot of the negative running plays, which has allowed us to stay on schedule."
The Giants' offensive line first changed after left tackle Will Beatty was placed on IR on Nov. 30 following eye surgery, forcing them to move Diehl back to left tackle. The past two weeks, the team has been without the services of center David Bass, who is batting a neck injury and intense headaches. Giants head coach Tom Coughlin still is not sure of when or if Baas will be able to return.
Without Baas, the Giants plugged in Boothe and Petrus. With those two on the line, the Giants' running game has come to life. The team rushed for 100 against Green Bay and 110 on Sunday against Dallas. That followed a two-week stretch where the Giants had rushed for 102 yards combined in losses to Philadelphia and New Orleans.
The line paved the way Sunday night for just the second 100-yard performance by a Giants running back this season as Brandon Jacobs rushed for 101 yards and two touchdowns. Ahmad Bradshaw previously ran for 104 yards against Buffalo on Oct. 16.
"This group hasn't played together in games a lot but in practice we work a lot together and get some different combinations in there working in practice together often," Boothe said. "It's not a completely new situation to be next to Mitch or for Mitch to be next to David, it's something that we practice. I think everybody trusts one another and has full confidence that the person next to you is going to do the job and do it to the best of their capabilities."
The coaching staff and team have particularly heralded the play of Petrus, a fifth-round draft pick in 2010. Petrus had never made a start before being told just hours before playing Green Bay he would have to step into the lineup.
Sunday night, with a week of preparation under his belt, Petrus contributed another solid start. Coughlin applauded Petrus for his block on the two-point conversion run by Danny Ware that gave the Giants a 37-34 lead with less than a minute left in the game.
"He's going to try to battle and create those lanes for the running backs and he's really done a tremendous job on offense," defensive tackle Chris Canty said. "He's also done a great job pass protecting. I remember last year, I used to go against him a lot with the scout team and I would have a headache after every practice, he was such a physical player. I knew once he got his opportunity, he was going to be successful. I'm happy for our football team and happy for him personally."
Last season, the Giants had a very similar situation take place with shuffling lineman in and out and seeing their running game perform at a high level. Center Shaun O'Hara got hurt, yet the Giants rushing attack never missed a beat, with players moving to different positions and others filling in as starters.
While Giants teams of past years might scoff at 110-yard rushing games as an accomplishment, for this team, Sunday was just the sixth time all season they had had one -- and their fourth-highest total for the season.
"The offensive line is playing great and [Petrus] is a big part of that, absolutely," Canty said. "The backs are running hard and have confidence and our O-line has confidence so they're really giving us a chance. They are really giving us an opportunity to control the football and any defensive player will tell you that they love an offense that can run the football because it gives you a chance for extra rest."