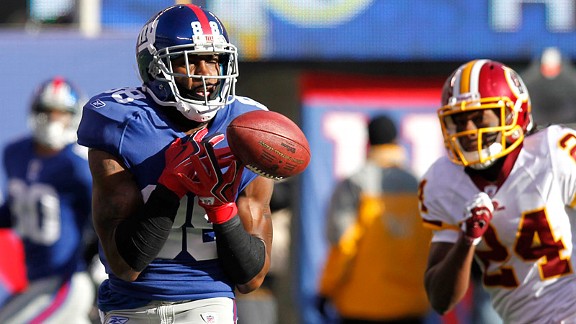 Tim Farrell/The Star-Ledger via US Presswire
Hakeem Nicks' early drop set the tone for the Giants' offense.Hakeem Nicks could have used some sunglasses.
In what turned out to be a momentum-changing play in the game, Nicks dropped what likely would have been a touchdown pass in the first quarter because he lost the ball in the sun. The play looked as if it was going to give the Giants a 7-3 lead; instead, the Giants did not score a touchdown until there was less than a minute left in regulation.
"It was wide open," Nicks said. "Eli [Manning] threw the perfect pass and led me straight up the middle to the end zone and I would love to have it back, but [you] can't control the sun and I wish that I could have caught it."
With the sun shining bright before Sunday's game, Manning and Giants head coach Tom Coughlin preached to the receivers that they needed to be aware that the sun would be a factor. They told the receivers that they needed to make sure that they looked the ball all the way through on their catches.
That theory got put to practice right away. Trailing 3-0 in the game, Nicks separated himself from coverage and Manning hit him in stride at around the 18-yard line, but the pass went off Nick's facemask and fell to the ground before the receiver could haul it in.
Nicks said he saw the ball, but then it disappeared for a second and he had bad hand placement for it; he had his hands low when the ball was up high.
"I think being a receiver you have to have a short-term memory, but obviously it's one you want back," Nicks said. "It happened, so can't take it back now."
The Giants' offense never got going after that, with costly turnovers plaguing the unit along the way. Washington's pass rush didn't allow the Giants time to execute their offense, and a team that had scored 72 points the previous two weeks finished with just 10. The team also had a handful of collective drops.
For Nicks, while he led the team with five catches for 73 yards, he had at least one other drop during the game as he was targeted a team-high 12 times.
With the Giants trailing 23-3 about midway through the fourth quarter, a pass from Manning went right through Nicks' hands and the Giants did not score on that drive. An earlier pass also intended for Nicks was intercepted by DeAngelo Hall, who made a fantastic one-handed grab on what appeared to be an underthrown ball.
The Giants and Nicks seemingly never recovered from that dropped pass.
"I am probably the hardest person on myself. I won't make nothing up. If it touched my hands, I say it's a drop, I'm supposed to catch the ball, I feel like that's what I do, that's what they brought me here for," Nicks said.
"You have some games like this. Just a matter of how you bounce back, how you step up to the plate and take the criticism or whatever you're going to take. I know what I'm capable of, and I know what this team is capable of and we know what we have to do."