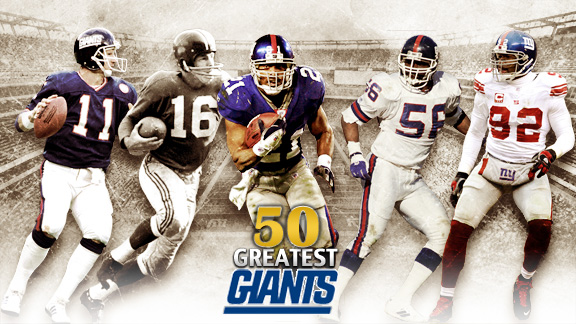 ESPN.com illustration
The list: 50 Greatest Giants

Rank 'Em: Your top 20 »
As the G-Men get ready to play the St. Louis Rams on the next edition of "Monday Night Football," ESPNNewYork.com is proud to announce its list of the 50 Greatest Giants.
Putting this list together was a tall order, considering Big Blue's long and storied history, which includes three Super Bowl wins.
There is plenty of room for debate -- in terms of who we selected, and in terms of what order we placed them in. And we welcome your feedback! Feel free to use the comment feature below.
We wanted to include a wide range, in terms of positions. And we certainly could have included at least a couple more current Giants -- in fact, two of them just missed the cut. But they've got some time left in their careers, and will likely make this list when it's all said and done.
Who are they? We'll, why don't you take a guess?
With that said, let 'er rip! Enjoy the photo gallery, and use our list ranker to assemble your very own top 20.