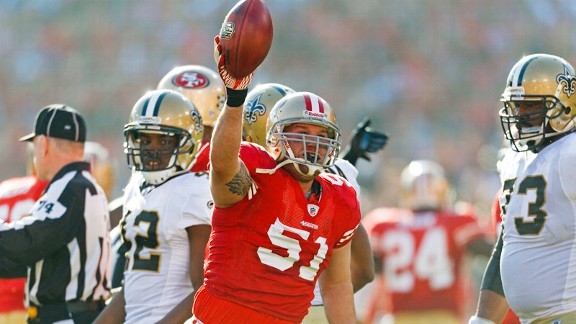 Jason O. Watson/US Presswire
Blake Costanzo recovered a fumble in last weekend's playoff victory over the Saints.When Blake Costanzo got his first NFL shot, back in 2006 in with the New York Jets, his name inspired a lot of "Seinfeld" cracks.
Hey, Blake, where's Jerry, Elaine and Kramer?
Ha, ha.
Costanzo has proven there's more to him than a last name that makes people smile. He's an undersized linebacker out of Franklin Lakes, N.J., a former NFL walk-on fired four times by three different teams. He refused to quit, kept coming back because he never doubted he was good enough, and now here he is, one game from the Super Bowl.
When the San Francisco 49ers' kicking teams are on the field Sunday in the NFC Championship Game, look for No. 51. Chances are, he'll be around the ball, doing something -- anything -- to disrupt the New York Giants. Watch closely, because he might be a blur on your screen.
Costanzo is the best special-teams player on arguably the best special-teams unit in the league. He was named a Pro Bowl alternate, a rather dramatic rise from his days as an undrafted free agent who had to pull a "Rudy" to get noticed.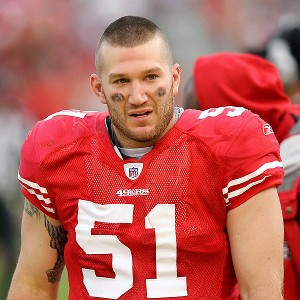 Ezra Shaw/Getty Images
Blake Costanzo
He went from the bottom of the Jets' roster to the top of the world -- well, almost. Still two more wins for that.
"It hits you at certain times of day," Costanzo said this week in a phone interview. "I'll be driving home from work and I'll be thinking, 'Wow, if we win this game, we're in the Super Bowl.' It's something I've dreamed about since I was a kid."
Costanzo grew up in Giants country, but he was a 49ers fan. He got hooked after watching those classic 49ers-Dallas Cowboys games in the 1990s, and he also was inspired by an old TV feature on Jerry Rice and his relentless training regimen.
He adopted Rice's all-out mentality, and it got him from a successful career at tiny Lafayette College to the Jets' training camp.
Costanzo soon discovered the harsh reality of the NFL food chain. He was told that, as an undrafted rookie, he probably wouldn't see any action in the first preseason game. He refused to accept that and asked one of the Jets' assistant coaches what he had to do to get in.
The coach told him he needed to outperform the rookie ahead of him on the depth chart, Anthony Schlegel, a third-round pick from Ohio State. Costanzo accepted the challenge, with a request.
"I told the coach, 'Put me against him on every scout team, every rep,'" Costanzo said. "I treated every practice like it was the Super Bowl. I went a million miles an hour."
Costanzo outdid Schlegel (now out of the league), got into that first game and impressed then-coach Eric Mangini so much that he was singled out in the team meeting. He had a chance to make the team, but he fractured his wrist later in camp and didn't make it. Didn't make it in 2007, either.
He ended up with the Buffalo Bills for two seasons, the Cleveland Browns for two years and finally to San Francisco, where finished the 2011 season with 17 special-teams tackles. He came up big last week, recording a forced fumble and fumble recovery in the divisional win over the New Orleans Saints.
"I don't want to be just a regular guy who plays special teams," he said. "I want to make a difference."
Costanzo is only 6-foot-1, 235 pounds, and he's not going to burn up anybody's stop watch with his speed. But he's a fearless, a must on special teams. Relentless, too; he doesn't stay blocked.
"He's just a guy, physically ... but he has something else to him that is not a measurable," special teams coach Brad Seely told the San Francisco Chronicle. "He's not the biggest guy. He's not the fastest guy. He's not the strongest guy. But on Sundays, he's a pretty, pretty good football player."
Costanzo is all about football. In the Bay Area, he lives in a mostly empty apartment because who has time for interior decorating? All he has is a bed and TV. He's so humble that he used to help the Browns' equipment staff by folding towels.
Like we said, he's Rudy -- except this Rudy gets into the games when it matters.
"I consider myself a big person," he said. "I live life with a passion and with my heart. I go by feeling, and I never had a feeling in my soul that football was done for me. I convinced myself I could play at this level."
He's making a name for himself, even if his name makes us think of George.