Devin Thomas may not have gotten much of a chance to show what he can do at wide receiver, but he certainly made an impact on special teams with the Giants.
Thomas played a part in helping the Giants get to the Super Bowl last season with two key fumble recoveries on punts in the NFC Championship Game against San Francisco. On Wednesday night, Thomas agreed to a one-year deal with the Bears, according to the team's website.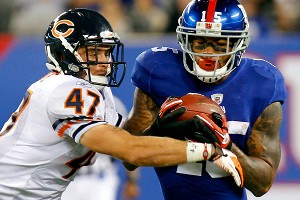 Tim Farrell/US Presswire
Devin Thomas (15) is now a Bear.
Thomas leaves the Giants only having caught three receptions for 37 yards in his nearly two seasons with the team. He played primarily on special teams as a returner and on the coverage team, where he made his biggest contribution, which included a fumble recovery on a punt return that helped set up the game-winning field goal in overtime of the NFC title game.
Thomas joins Mario Manningham and Aaron Ross as Giants free agents to depart via free agency. Brandon Jacobs, who was released by the Giants, also signed with San Francisco on Wednesday.
Here is the updated list of Giants free agents and a column on the Giants' approach to free agency thus far.
The Bears will now see how to best use the 25-year-old former second-round pick of the Redskins. As for the Giants, they eventually look for a little more depth at receiver and another player to help on special teams.