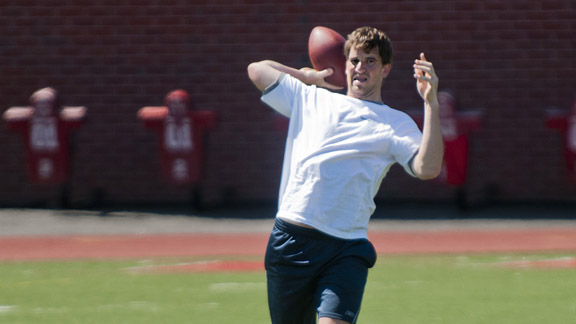 Jeff Skopin/ESPNNewYork.com
Eli Manning working out at JFK Stadium in Hoboken, N.J.HOBOKEN, N.J. -- Eli Manning held the final day of his anemic Giants player workouts in Hoboken at a local high school. Five current player attended: Manning, backup QB Sage Rosenfels, TE Kevin Boss, WR Michael Clayton and WR Samuel Giguere.
Undrafted free agent Dan De Palma, a long-shot from West Chester University, also worked with the group.
Thursday was the final scheduled workout, though Clayton said the group planned to hold workouts again early next week.
Boss was not aware of additional workouts next week, but said there could be a push to get a bigger group together in the future.
"If this thing continues to go on we might put together a few more workouts and ask maybe the defense to get involved or invite the offensive line. Depends on how long this this thing goes," Boss said. "For now it's just good to get amongst the quarterbacks wide receivers."
While other teams may have flown out players and had near total participation at some informal practices during the lockout, the Giants had 12 players throughout the four-day week. Duke Calhoun, Ramses Barden, Hakeem Nicks, D.J. Ware, Victor Cruz, Darius Reynaud and David Diehl were among those who showed up, although on Thursday the players were outnumbered 2 to 1 by reporters outside the field's gate.
Manning declined to talk to reporters again as he left.
Asked if he was disappointed if more Giants hadn't shown up to take part, Clayton was emphatic.
"No man, not at all. This is a time when players are on their own schedules right now," Clayton said. "This is strictly for guys who can get away who need to work with their quarterback and other things. So it's a plus to be here, but if not the guys who weren't here still have their regimen in their hometown."
This is a time of year when players would normally be working out with their teams and gearing up for minicamps. Instead, players are trying to stay in shape while balancing concerns about staying injury-free.
"Knowing that I did everything in my power to prepare, if I was to be injured I wouldn't be upset about it," Clayton said.
Boss is certain about one thing: He didn't expect to be spending a spring day working out at a local high school as a member of a professional football team.
"I wouldn't really call it practice," Boss said. "I think you guys are making it more of a big deal than it really is."