ALBANY, N.Y. -- Victor Cruz may be entering the final year of his contract, but he says he has more motivation than just playing for a new deal.
"I don't need a contract to stay motivated," said Cruz, who put up a franchise-record 1,536 receiving yard last season. "Just the thrill of winning with my team, at home in New York, a place I grew up, that's all the motivation I need to play football. I don't think a contract is something that's gonna motivate me."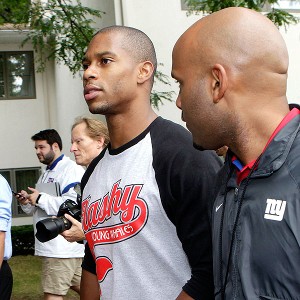 Tim Farrell/The Star-Ledger/US Presswire
Victor Cruz reported to training camp Thursday.
Cruz, 25, has said he wants a new deal but will not hold out or make a stink about one. He is set to make $540,000 this season.
Returning to Albany is another reminder of just how far Cruz has come. When the Giants were last here two summers ago, Cruz was an undrafted free agent trying to make the team.
Now he returns after a record-breaking season and is motivated to prove that he is a legitimate star receiver.
"I'm excited to see the fields again, excited to see some of the areas where I was making plays," Cruz said. "I'm just glad to be back out there. It's definitely nostalgic being up here with the guys."
"I'm not as nervous as I was the first time, not knowing if I was gonna make the team and what was gonna happen," he added. "You just never know what's gonna happen when you come up as a rookie free agent. This year it's a little bit more calm, just continue to try to fine-tune my skills."