Sitting just about 30 miles from ground zero, Don Bosco Prep held a ceremony before their home opener against Mission Viejo in remembrance of 9/11.
Fr. James Heuser lead the ceremony as he held a moment of silence and said a blessing for those involved in the tragedy including the first responders, police officers, fire fighters, doctors, nurses, the workers who cleaned up the rubble and the many families that were effected.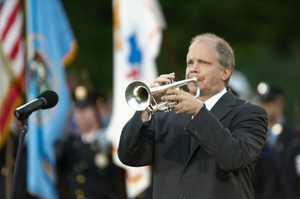 Jeff Skopin - ESPNNewYork.com
Following the blessing, taps was played on the trumpet and the national anthem was sung.
The entire event was accompanied by the Bergen County Pipes as they played the bag pipes and snare drums. A former alumni who graduated in 1979, Brig. Gen. Tim Trainor, who did the coin toss along with five members of the FDNY. The Color Guard presented the flags.
"We knew with the anniversary of 9/11 this weekend that we had to do something special and it was a beautiful ceremony," said Don Bosco's principal John Stanczak. "In this area a lot of people were effected, we had students who lost parents and families who lost relatives and friends.
"It meant a lot to us and we just wanted to make sure that we could use the football game as a forum to have a really special event."