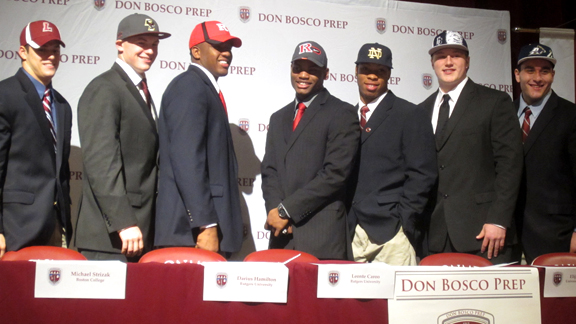 Rob Abruzzese
Pictured from left to right are Kyle Sakowski, Mike Strizak, Leonte Carroo, Darius Hamilton, Elijah Shumate, Tyler Samra and Mike Casimos.
Signing day is always a busy day at Don Bosco and this year was no different as the New Jersey football powerhouse had seven seniors signing in its auditorium on Wednesday morning. All seven players have faxed in their commitments as well.
"Great class, great bunch of kids," said proud head coach Greg Toal. "Obviously they exerted great leadership throughout the year. It's a special group that I'm sure are going to make a lot of people proud in college. Coaches are going to be happy to get these guys."
The biggest name to sign Wednesday was five-star recruit and defensive end Darius Hamilton, who is headed to Rutgers University along with his four-star teammate, wide receiver Leonte Carroo.
Hamilton, the No. 3 prospect in New Jersey according to ESPNU, committed to the Scarlet Knights on Tuesday night and is the son of former Giants defensive tackle, Keith Hamilton.
The pair are headed there despite the fact that Rutgers just recently had to replace head coach Greg Schiano with incoming coach Kyle Flood. Carroo had been committed to Rutgers before Schiano left but kept his word and stayed with the team.
"You don't go to school because of one coach," Hamilton explained. "At that time, it became real evident that this could happen anywhere. So you have to find a school where you want to be in case something like that did happen."
Added Carroo: "I can't wait, me and Darius are already talking about our room situation and starting football together. We can't wait to be in college."
Four-star recruit Elijah Shumate signed with Notre Dame, where he expects to play strong safety and will be involved in offense as part of the wildcat formation. The safety said he picked Notre Dame because it provided the best of both worlds, football and academics, but he is also excited about possibly getting the chance to play at Yankee Stadium if the Fighting Irish play in the Pinstripe Bowl.
"That's a big thing because not a lot of people get to play at Yankee Stadium," Shumate said.
Defensive lineman Mike Strizak signed with Boston College, where he expects to be moved to outside linebacker. Offensive lineman Tyler Samra signed with the University of Connecticut, where he will play either center or guard. Another lineman, Mike Casimos, signed with the University of Akron. Finally, safety Kyle Sakowski signed with Lafayette College.
Toal said there isn't a more proud day for a high school football coach than signing day.
"It's a special time," Toal said. "For these kids to get these type of opportunities is pretty special. It really makes all of our coaches feel special that we could help these kids get the opportunity that they have. It's just amazing getting a D-I scholarship, it's pretty exciting.
"This really is a culmination of everything we've done and one of the best days of the year."
Across the board, every player said that Wednesday was an exciting day and pointed to this as the reason they came to Don Bosco. The seniors leave the school with a 46-game win streak and as the mythical national champions after going wire to wire as the top team in the country.
"This is why we come here and it's amazing," Strizak said. "Coming in as freshmen, nobody knew where they were going to go. Everybody's aspirations are to go to a big college and now look, four years later there are seven guys up here."
Added Samra: "This is just the beginning of it, that's the great feeling about it."