PISCATAWAY, N.J. -- Eight sprints. At the time, Bob Hurley and his St. Anthony players probably didn't think much of this exercise when they blazed up and down the court to close Tuesday's practice.
But it was a similar burst of energy toward the end of Wednesday's much-anticipated matchup against No. 1 St. Patrick that made all the difference.
The No. 2 Friars used an 8-0 run at the start of the fourth quarter to surge past a tired Celtics squad and earn a 62-45 win, securing the NJSIAA Non-Public Group B title at Rutgers. The game was also considered the unofficial national title game, as St. Patrick is ranked No. 1 and St. Anthony is tabbed No. 2 by the Powerade Fab 50 ESPN Rise rankings.
Senior guard Myles Mack, who will be playing at the RAC next year, led the Friars with 19 points, while junior Kyle Anderson dropped 12 points and grabbed nine rebounds.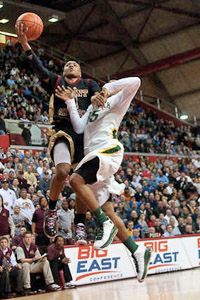 Jeff Skopin - ESPNNewYork.com
Senior guard Myles Mack led
the Friars with 19 points
"That separation was monumental," said Hurley, whose 30-0 squad moves on to the New Jersey Tournament of Champions this Saturday. "Our defense was very good in the fourth quarter … and we were able to force them to shoot from the outside."
An "amoeba defense," as Hurley called it, threw different looks at the Celtics (26-1) to keep St. Patrick star forward Michael Gilchrist on the perimeter. While the Kentucky-bound senior made his mark in other areas (14 rebounds and five blocks), St. Patrick's leading scorer could only muster seven points on 2-for-11 shooting.
"[Gilchrist] is a great high school player. We loaded up the box on him. Everybody was there," Hurley said. "We had to stop either Gilchrist or [Derrick] Gordon. And I wouldn't have thought that we would have had such good control."
At the outset, though, that control didn't appear to be there. While Gilchrist controlled the glass (five first-quarter rebounds), Gordon took care of the scoring, pouring in 11 of his game-high 26 points to put the Celtics up 15-6 midway through the first period. St. Patrick ended the half shooting nearly 48 percent from the field.
The Friars made several surges, the biggest of which opened the second half, when two Jordan Quick 3-pointers helped produce an 8-0 run and St. Anthony's first lead of the game.
That time, St. Patrick had an answer. Gordon scored nine more points to give the Celtics a 39-34 advantage in the third quarter.
Yet when the Friars threw another 8-0 run at the Celtics to start the fourth, the Celtics weren't able to respond.
Four different Friars contributed during a flurry that gave them a 47-40 lead with 6:12 to go. The Celtics, meanwhile, managed just two points in a near five-minute span, allowing the Friars to pull away for good.
"I thought we were almost emotionally tired," said Celtics coach Kevin Boyle, whose team went just 5-for-23 in the second half. "It's been such an emotional roller coaster for several weeks now, being on top.
"You've got to give [St. Anthony] credit. They were definitely the better team."
Indeed, on this rare occasion, when No. 1 met No. 2 with a group title and perhaps a mythical national crown on the line, St. Anthony proved better. Don't ask Hurley to settle the "Who's No. 1?" debate, though. The Hall of Fame coach was just happy to survive the night's battle.
"I can't describe what just happened," Hurley said. "We beat a great high school team and it was an unconventional fourth quarter.
"The best team won the game and we're excited that it's us...But we understand how good that team was that we just played. And it might be a different outcome tomorrow; something else could have happened. But, that being said, it can't, so we're OK."