It's been two weeks since Nazareth has taken the court, but once the Lady Kingsmen finally did it was like the game didn't even matter.
"This game was so emotional, said Nazareth's Brianna Butler. "Losing our coach was a big toll, but playing, being out here on the court, it was just something that he would have wanted us to do. It didn't feel right not playing this past week. We felt like we were almost letting him down."
The Lady Kingsmen finally took to the court Wednesday night for the first time following the death of their coach Apache Paschall, who was dealing with skin cancer when he passed away of a heart attack on Jan. 3. Since that time they had two games cancelled against their wishes, but they finally got a chance to play Molloy, beating them 77-63 at home, in a game that was both highly emotional and cathartic at the same time.
"We were just upset, all week we wanted to play but they wouldn't let us play," senior guard Darius Faulk said. "It was just very upsetting."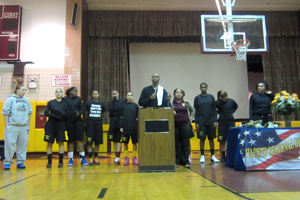 Robert Abruzzese/ESPNNewYork
Before the game there was a ceremony held in Apache's honor. Principal Providencia Quiles introduced his mother, Elaine Bartlett, and his daughter, Nytaea Satava Paschall, who both fought back tears as they spoke to the crowded gym. Then assistant coaches Ron Kelley and Lauren Best addressed the gym with a lineup of crying girls behind them. Afterwards the girls each put a rose on the seat where Apache normally would have sat before going into the coach's office to take a break before starting the game.
"I didn't say much at that time," Kelley explained. "I was crying myself so I didn't say too much. I just said, 'ladies, let it all out. Let it out now.' After about 10 minutes I said, 'let's go, let's get back to business,' and that's exactly what they did."
HOW THE GAME WAS WON: The game was like an afterthought. Everybody involved was just relieved that they finally got a chance to get out on the court again and start to put this behind them so it didn't matter if they won or lost.
When the game started things were a little sloppy. In the first two minutes there were turnovers all over the court, bad shots, missed passes. Molloy struck first going up 5-0 on a pair of baskets by Amani Tatum and Kamille Ejerta, two girls who played for Apache's Exodus AAU squad.
It didn't take long until Nazareth's immense talent took over though. Jazmine Belk hit a layup that eased the tension and started the ball rolling. Then Bianca Cuevas started raining three's as the Lady Kingsmen went on an 11-0 run that put them up 22-13 after the first quarter.
There was more tension in the second quarter as the girls struggled through their emotions to find consistency. They found it in the second half though as Nazareth started the third quarter out with a strong 12-2 run that gave them a commanding 52-33 lead that they would never relinquish.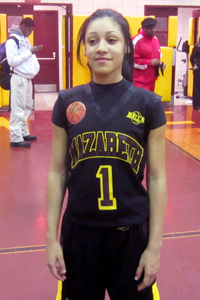 Robert Abruzzese/ESPNNewYork
Bianca Cuevas
PLAYER OF THE GAME: Bianca Cuevas was often the center of Apache's attention for both good and bad reasons. Apache mentored her because of her immense talent, but he also had to spend time with her because of both on and off the court shenanigans she gets herself into. She was also the first one to break down in their first practice the Wednesday following his death.
So it was almost appropriate that the sophomore took over the game with her long distance three-point shots that would make an NBA player jealous. She led the game with 28 points and always was there with a big basket anytime it looked like Nazareth had fallen into the trap of just going through the emotions. Without her stellar play it is hard to imagine Nazareth winning this game.
UP NEXT: Nazareth will head to Bishop Ford this weekend as it will participate in the Rose Classic against St. Anthony's on Sunday. Molloy will also take part in the Rose Classic when it takes on Bowie (Md.) on Saturday afternoon.