NEWARK, N.J. -- Anze Kopitar waited in the middle of the ice, hoping for a chance to end Game 1 of the Stanley Cup finals.

It didn't take long for Kopitar to get that chance -- and when he did, he didn't miss it.
Kopitar took a Justin Williams pass, moved in on a breakaway and beat Martin Brodeur 8:13 into overtime, giving the Kings a 2-1 victory over the Devils on Wednesday night at the Prudential Center. Los Angeles is now 9-0 on the road in the postseason.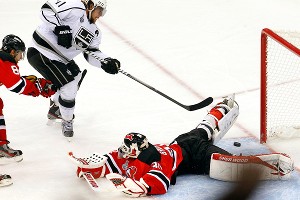 Jim O'Connor/US Presswire
Anze Kopitar slips the winner past Martin Brodeur.
"Anytime you get a chance to finish it off in OT against a world-class goaltender like Marty, it's a great feeling," said Kopitar, 24, who moved into a tie with captain Dustin Brown for the team's postseason lead in points with 16 (seven goals, nine assists).
The Devils had several chances to finish it off in the sudden-death session. Kopitar only needed one.
Drew Doughty chipped the puck up to Williams along the boards. Dainius Zubrus and Bryce Salvador both went to battle him, leaving Kopitar all alone. Williams sent a perfect backhanded pass to Kopitar, and he did the rest, faking a backhand before going forehand for the game-winner.
"I don't know if he heard me or not, but I yelled for the puck," Kopitar said. He chipped it perfectly, right onto my tape. It all happened pretty quickly and I was able to finish it off."
"Anytime you see your own guy going in overtime on a breakaway, especially No. 11, you think he's gonna score, and he made a great play," Williams said.
Kopitar had a reason for going to his forehand against Brodeur.
"I guess it was back a few years when we were in a shootout in L.A. and I went backhand," Kopitar said. "Maybe that's why he thought I was gonna go backhand again. I guess I just wanted to mix it up."