NEWARK, N.J. –- When asked by a reporter about the top line's recent production -- or lack thereof -- Devils captain Zach Parise quickly shot back:
"Who said we're not playing well?"
His answer may have struck some as defensive, and maybe it was, but it shows that Parise and his linemates feel that they are either shouldering some unfair criticism or are on the verge of breaking out.
Or maybe it's a little of both.
"I think we're playing fine," Parise said on Friday, one day before Game 5 of the Stanley Cup finals. "Just not scoring. If that's what you think [is] the difference between playing well and not playing well, that's your call."
The top trio -- comprised of Parise, center Travis Zajac and sniper Ilya Kovalchuk -- has managed only two points among them in the first four games, one of which was Kovalchuk's empty-netter goal in the Devils' 3-1 win in Game 4 Wednesday.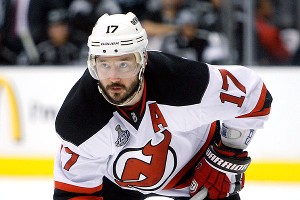 Jerry Lai/US Presswire
Ilya Kovalchuk and the Devils face their second consecutive elimination game.
While their contributions haven't been reflected on the score sheet, the team remains confident that will change soon.
"I think they're very close," coach Pete DeBoer said. "You just got to stick with it. It's frustrating. It's pressure. I mean, you guys talk to them on a daily basis. You write about that fact [that they're not scoring]. That's the pressure of playing at this point of the year. They recognize that.
"If they weren't getting chances, I'd be concerned," DeBoer continued. "They easily could have a couple goals each."
Parise and Kovalchuk managed four shots apiece on goal in Game 4, where an abundance of chances finally bore results against Vezina Trophy finalist Jonathan Quick, who has been unyielding as any goaltender this postseason.
That win -- the Devils scored three goals after managing only two in the first three games of the series -- might provide the traction needed to spur production and, ultimately, keep the Devils' comeback hopes alive. Saturday will be their second consecutive elimination game.
"I think we were creating more than we were in the first three games," Kovalchuk said. "I think we're forechecking better. We were in the right places. I think our power play was better. We shoot more pucks on net and create more momentum in the right direction."
Kovalchuk's empty-net goal, scored with 20 seconds remaining and a Devils win already wrapped up, was his first since the series finale against the Rangers in the Eastern Conference final May 25.
Might that be enough to get him, and his linemates, going?
"Empty-netters are the best goals because after you score them, it's almost 100 percent that you win the game, so we'll take them any day," Kovalchuk said. "But, it doesn't really matter who scored. We feel like we played our best game so far in the series. We've got a lot of room to improve but I think we're in the right direction."