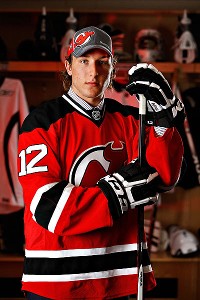 Gregory Shamus/Getty Images
Stefan Matteau
Here is a recap of what happened in this weekend's NHL draft for our three locals:
DEVILS
Matteau! Matteau! Matteau!
Hard to believe, but that name might have a nice ring to for New Jersey, in a few years.
With the 29th pick in the first round, the Devils selected Stefan Matteau, son of hated nemesis Stephane Matteau -- the same Matteau whose double-overtime wraparound goal in Game 7 of the 1994 Eastern Conference finals sent the Devils packing and the Rangers toward the Cup.
The younger Matteau, 18, is a 6-2 center who had 32 points in 46 games for the U.S. Team's National Development Program. New Jersey also scooped up defenseman Damon Severson out of Kelowna of the WHL with its second-round selection.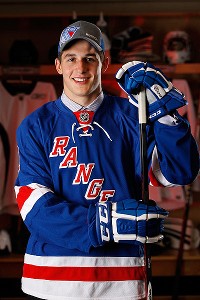 Gregory Shamus/Getty Images
Brady Skjei
The biggest news the Devils made, though, was not trading impending unrestricted free agent Zach Parise's rights. The Devils still feel they can sign their captain. They're going to face stiff competition. Complete draft results.
RANGERS
The Rangers could've taken Matteau. Instead, they opted to go with 18-year-old defenseman Brady Skjei at No. 28. He played in 60 games with the U.S. National U-18 Team, and notched four goals and 19 assists.
Kent School forward Cristoval Nieves was their second-rounder, No. 59 overall.
The Rangers are expected to be active this offseason in trying to land another potent offensive player, whether that be via free agency or trade. Names like Rick Nash and Alexander Semin could end up on their radar. Complete draft results.
ISLANDERS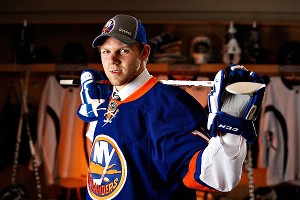 Gregory Shamus/Getty Images
Griffin Reinhart
The Islanders addressed their blueline with the No. 4 pick, taking WHL defenseman Griffin Reinhart. The 18-year-old had 12 goals and 24 assists in 58 games for the Edmonton Oil Kings. He is 6-4, 202 pounds and is said to have an NHL-ready body. His father is former pro Paul Reinhart, who played a combined 648 games for the Flames and Canucks.
The Islanders also addressed their blueline via trade, acquiring Lubomir Visnovsky from the Ducks for a 2013 second-rounder. He had just six goals and 21 assists in 68 games last season, but amassed 18 goals and 50 assists the year before. Only problem is, there's a report that says Visnovsky may want to play in the KHL. Could this prove to be a Christian Erhoff-like situation all over again -- except worse? Complete draft results.