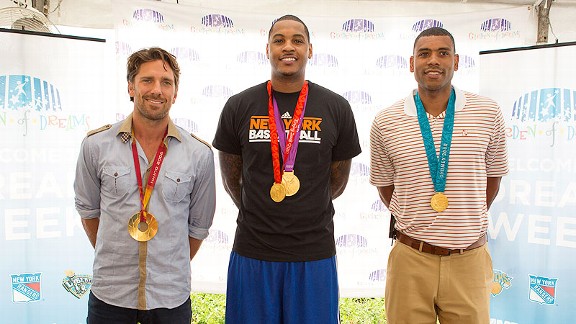 Madison Square Garden
Henrik Lundqvist, Carmelo Anthony and Allan Houston show off their Olympic gold medals.
Henrik Lundqvist took a break from his offseason to hand out a few golds to some deserving local kids.
The Rangers goalie joined Knicks forward Carmelo Anthony, assistant GM Allan Houston and former Knick Ray Lumpp to hand out gold medals to members of the Garden of Dreams foundation during the foundation's 'Dream Week.'
All four also brought their own Olympic medals to show the kids.
"Seeing how excited the kids get after a week like this makes it all worth it for me," said Lundqvist, the Garden of Dreams spokesman. "Garden of Dreams does such wonderful work. I'm so proud to be part of an organization like this."
"The moment I received my gold medal at the Sydney games was such a huge honor," said Houston. "I hope I got to share a little of my experience with these great young people."
Kids participating in the Garden of Dreams Foundation's Dream Week went to Giants training camp, Radio City Music Hall, and the MSG Training Facility in Tarrytown.
The Garden of Dreams Foundation partners with 22 local organizations, and is dedicated to helping children to "make dreams come true for kids facing obstacles."