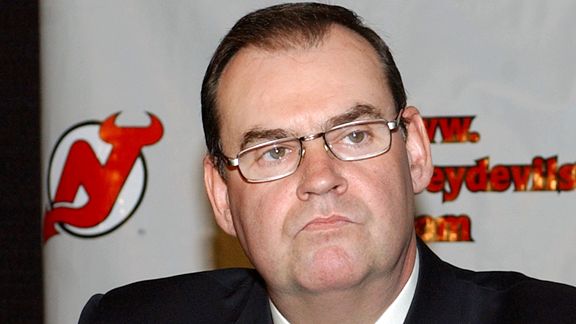 AP Photo/Bill Kostroun
Pat Burns coached the Devils for two seasons, leading them to the Cup in 2003.
Growing up around hockey, you collect people.
People you like and people you don't. Then someone comes along that you love. For me, that person was Pat Burns.
It could have been the sight of Pat -- behind the bench in Montreal, Toronto, Boston or New Jersey -- passing back and forth, screaming at the officials, pounding on the glass or the boards.
Maybe it was a witty observarvation in front of the camera or making the media laugh in the scrum -- Pat Burns was all about the game.
I remember in the Devils' second-round playoff series with the Lightning in 2003. Burns didn't get the line change he wanted. Tampa scored and Burns went nuts, as only he could.
He won the Jack Adams Award as coach of the year not once, not twice but three times. In three of the toughest hockey markets in the world -- Montreal, Toronto and Boston. He didn't win it in N.J., however. In New Jersey, Pat Burns won the Stanley Cup.
Let's look at his Pat's numbers: 1,019 games coached with a record of 501-353-165.
You would think that all of that would land you in the Hockey Hall of Fame. It didn't happen for Pat. The Hall had a chance to do the right thing and put him in before his passing, but decided that he wasn't worthy -- and that's sad.
When I announced on The Michael Kay Show that Pat had died, a caller put it best: "We don't need the Hall to know how great Pat Burns was."
The caller was right. The hockey world knows. I know. If you're reading this you know it, too.
Pat Burns spent 58 years on this earth, but his spirit will live in the sport forever.