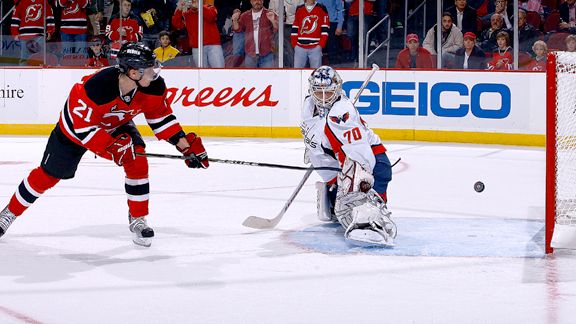 Photo by Andy Marlin/NHLI via Getty Images
Mattias Tedenby puts the puck past the Capital's Braden Holtby for a penalty shot goal at the Prudential Center
NEWARK, N.J. -- In just two weeks time, Mattias Tedenby's life has changed faster than he can skate.
Ever since his debut on Nov. 10, the 20-year-old has been living out of a West Orange hotel room 15 minutes from the Prudential Center, thousands of miles away from his parents and his girlfriend. He's also had to adjust to a more controlled style of hockey than he's been accustomed to while growing up and playing in his native Sweden.
But the 20-year-old winger, who represents a ray of hope for a Devils team in need of wins, has taken it all in stride. After all, ever since the Devils called him up, Tedenby has been fulfilling a childhood dream he had when he was six.
"It was my goal," Tedenby said in his best broken english. "Ever since I was a kid. My father [Robert] played hockey in the Swedish Elite League so I grew up going to practices and games and wanting to do what he did."
To his teammates -- especially his veteran linemates, Jason Arnott and Patrik Elias -- he is still a kid. A kid who possesses all the talent in the world. And that talent was on display Monday night as the rookie scored his third goal of the season on a penalty shot and added an assist as the Devils routed the league's top team, the Washington Capitals, 5-0.
"He's a spark plug," Devils head coach John MacLean said. "He's confident when he has the puck. He enjoys playing. It's a learning process with him as far as the overall game. But I like his energy right now, he's done a really good job."
Tedenby's energy -- and speed -- was the reason MacLean decided to put him alongside Arnott and Elias, a pair of Devils playoff legends. And the three have flourished playing together ever since. In fact, they combined for four goals and two assists in New Jersey's thrashing of Washington.
"He uses his speed well and it adds another dimension to our line," Arnott said of Tedenby. "He just wants to go, go, go all the time. He's improved every game. And that's a great sign. He's shown more confidence to drive to the net, and he's not afraid to get in there."
Tedenby, the Devils' first-round pick in the 2008 NHL Draft, is generously listed at 5-foot-10 and 175 pounds. Maybe it's because he plays that tall, making up for his lack of size by playing with heart and determination.
But despite his stature -- he looks about 5-foot-5, maybe 5-foot-7 and claimed he weighted 172 pounds -- Tedenby overcame the odds, persevered through juniors and made it.
"A lot of people told me I was too small to play at every level I played at," Tedenby said. "But I don't care what everyone says."
He may now that everyone is calling him a star in the making. Still, for that to happen, he's going have to continue to learn and develop his game.
"For him it's playing in a smaller rink and not getting lost out there, going all over," MacLean said. "You've still got to play positional hockey. And he's been conscious of that. He's a good kid, willing to learn. Sometimes we want him to slow it down a bit, but at the same time you don't want to slow him down too much. He's exciting at times."
Tedenby gave fans a glimpse of what they can expect for years to come when he skated in, deked and beat Capitals goaltender Braden Holty with a well-placed backhander after being awarded a penalty shot with 1 minute, 46 seconds left in the first period. The goal gave the Devils a 3-0 lead.
"That's my move," Tedenby said of his patented forehand to backhand deke. "But I can mix it up a bit."
Given his myriad of moves, it's hard to fathom that Tedenby didn't make the team out of training camp. But with the injuries -- and losses -- piling up, he was given a chance.
And so far, he's made the most of it.
"It's been fun playing with him," Arnott said. "He certainly keeps our legs going, that's for sure."