NEWARK, N.J. -- Kick saves. Pad saves. Glove saves. Sprawling saves.
Chants of "Marty! Marty! Marty!" resonating from the crowd.
Martin Brodeur was in vintage form. All that extra work in practice had paid off.
Back as the New Jersey Devils' starting goaltender for the first time since his Jan. 1 debacle against the Carolina Hurricanes, Brodeur earned his first victory since Dec. 15, making 33 saves to lead his team in a 6-3 rout of the Tampa Bay Lightning on Sunday afternoon in front of 16,197 at the Prudential Center.
"I made some good saves," said Brodeur, who had his second consecutive strong appearance after stopping all 19 shots he faced in relief of Johan Hedberg on Saturday afternoon and snapped a six-game losing skid. "I'd like to get maybe two of the three back. ... But I think I made the saves early in the hockey game and when you get some offensive support, mistakes aren't showing as much."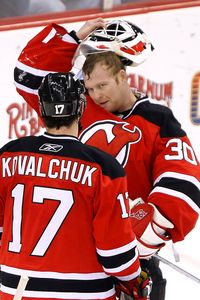 John O'Boyle/The Star-Ledger/US Presswire
Brodeur lost his helmet at one point, but he didn't lose the game.
For the first 16 seasons of his Hall of Fame career, the winningest netminder in NHL history hadn't made many mistakes. But in a nightmarish 2010-11 campaign that may turn out to be the worst in franchise history, Brodeur's gaffes have been put under a microscope.
On Sunday afternoon, though, there was no need for criticism. No need to suggest that Brodeur might finally be finished.
After allowing two goals on 13 shots in the first period, the 38-year-old stopped 22 of the final 23 shots he faced, enabling the Devils' offense to finally kick into gear for what felt like the first time all season. They scored five times in the third period to turn a 2-1 deficit into an eventual three-goal blowout.
"It feels nice to get some goals," Brodeur said. "We played with a lot of emotion. That's something we've been lacking. And it paid off."
So did all the extra work Brodeur has put in after practice with goaltending coach Chris Terreri. After being pulled eight minutes into his previous start against the Hurricanes, one in which he allowed three goals on just seven shots and earned the quickest hook of his career, Brodeur committed himself to refining his craft.
It showed against the Flyers on Saturday. And it certainly showed against the Lightning.
"He's looked more alert," interim head coach Jacques Lemaire said. "He's a lot quicker. And probably he knows what the defensemen will do. Prior to last few games, he didn't know how they'd react in front of him and it made it tougher."
Brodeur never seemed to have that problem when the likes of Scott Niedermayer, Scott Stevens, Ken Daneyko and Bruce Driver in front of him. But it has become an adventure with the likes of Hernik Tallinder, Anton Volchenkov, Andy Greene and Colin White helping him protect the net. Brodeur (6-18-1) is on pace for the worst goals-against average (3.05) and save percentage (.887) of his 17-year career.
He's always said, though, that if he can see it, he can stop it. And whether it was robbing Steve Stamkos at 4:46 of the second period by stacking his pads or snagging a hard point shot from Martin St. Louis 33 seconds into the third period with his glove, Brodeur was equal to the task.
"I went back to working really hard in practice," Brodeur said, "going back to some of the things I've been trying to do to just clear my mind and try to play better. And it happens to have a break yesterday to have some time in the net before I was going to start today."
The carryover was evident. And with less than four minutes remaining in regulation, the near-capacity crowd at The Rock began chanting a familiar name in unison.
"Marty! Marty! Marty!"
Shortly thereafter, Brodeur had to sprawl over to snag a puck that had popped up in the air when his mask flew off.
"I think it was a stick [that caused it]," Brodeur said. "I think it was Zuby [Dainus Zubrus] over back checking."
As it turned out, Brodeur was OK. He retrieved his mask and let out a wry smile.
"Kovy [Ilya Kovalchuk] came over to me and said, 'For sure you're going to make TSN now for this,'" Brodeur said. "It was a funny situation."
There haven't been a lot of chances to laugh, or smile, because as Brodeur has said recently, the game hasn't been as fun. And that prompted him to admit that it's finally time for him to share goaltending duties with Hedberg.
But those comments had long been forgotten as the final minutes elapsed Sunday afternoon.
Watching Brodeur smiling. Watching him try to score into an empty Lightning net in the final minute. Watching him fail miserably.
Of course, he was able to laugh about it afterward, considering it led to rookie Nick Palmieri's first career goal.
"It was fun. It was more enjoyable," Brodeur said. "The last two games we've been in the games. So many times we've been out of it early. [And that] doesn't make it fun to kill time."
On Sunday afternoon, though, there was no need to kill time -- especially since the only thing Brodeur and the Devils were waiting on was a win.