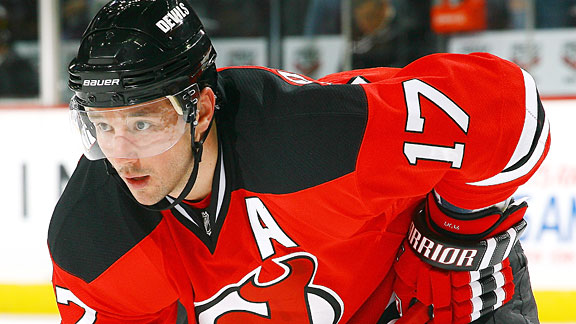 Andy Marlin/NHLI/Getty Images
Ilya Kovalchuk is in the first season of a 17-year contract with the Devils.NEWARK, N.J. -- New Jersey Devils sniper Ilya Kovalchuk won't be confused for a Frank J. Selke Trophy candidate anytime soon.
But that doesn't mean the defensive part of his game is nonexistent -- as it was in the past.
Ever since Jacques Lemaire took over after John MacLean was fired 33 games into the 2010-11 season, following one of the worst starts in franchise history, the interim coach has been preaching the importance of two-way hockey.
And it seems like Kovalchuk -- just like the rest of the team -- is starting to get it.
In his past five games, the 27-year-old Russian superstar not only has three goals and three assists, he also sports a plus/minus rating of plus-6. Kovalchuk, who has scored only 17 goals with 18 assists in 53 games, may still be on pace for the worst statistical season of his career, but he might just be able to salvage it if he continues to backcheck -- and the Devils continue to make an improbable surge toward the postseason.
Once the NHL's worst team, they're now 15 points out of the eighth and final playoff spot in the Eastern Conference with 28 games remaining.
"I believe that he's gonna have less pressure -- I believe this -- if he plays two ways," Lemaire said. "If he plays two ways, he's gonna be a better player. He will be appreciated more. Because if you're only a one-way player, and that one-way doesn't work, you're done."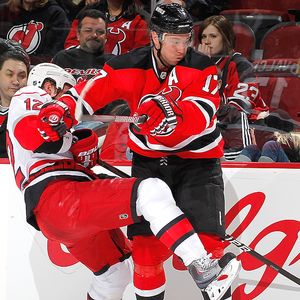 Paul Bereswill/Getty Images
Ilya Kovalchuk is willing to pick up the check, evident in this hit on Carolina's Eric Staal.
For most players, that would be the case.
But Kovalchuk -- at least when he's on top of his game -- is one of the most dynamic players in the NHL. Granted, the Devils haven't seen much of that this season, prompting heavy scrutiny from fans and media alike.
Until now.
"Everybody expects for me to get the points and score goals and make good plays for my linemates. [But] the defense, it's an important part of the game and I always want to improve that," said Kovalchuk, who is a minus-1 in his past 23 games since Lemaire took over after being minus-22 in his first 30 games with MacLean behind the bench.
"So when you've got the coach like Jacques, he's the best probably in the league who can teach you what to do. It's simple things, but you just have to pay attention to that and you're gonna get even more offensive chances. If you're gonna play good position, you can intercept the passes and score."
Lemaire has always been a major proponent of accountability from his players at both ends of the ice. Arguably, no franchise has ever executed the neutral-zone trap -- or left-wing lock, as it is commonly referred to -- as well as the Devils. Defense has always been the team's identity. That's how the Devils became a three-time Stanley Cup champion.
"When you're a scorer [and] you don't score for 10 games, 15 games, all of a sudden it becomes, 'Hey, we need the goals, we need the goals,'" Lemaire said. "But if a guy does something else -- you get the guys in the organization that appreciate it. And he feels good about himself. And by feeling better about himself, it's gonna help him offensively. I believe that."
Prior to being dealt to the Devils in February 2010 and signing that 17-year, $100 million mega-extension, Kovalchuk had been known as a flashy goal-scorer who didn't care much about playing in his own end. At the time he was traded by the Atlanta Thrashers, no active player in the league had lit the lamp more times (328) than he had.
But Lemaire has changed Kovalchuk's one-track mindset. Almost immediately after the coach came out of retirement, Lemaire began watching video with Kovalchuk, pointing out his flaws. And the two have been working feverishly to correct them.
"He wants me to be who I am," Kovalchuk said. "The team signed me to be myself, not be a Selke nominee. Definitely, everybody is responsible for defense, but when things don't go well offensively, you have to make sure to not give up any goals. That was the base where we started from, and right now we're scoring more goals and creating a lot more chances."
That much is evident by the Devils' 10-1-2 record in their past 13 games. During that stretch, they've tallied 44 goals, an average of 3.4 per game.
Lemaire's love of coaching has returned -- and he singled out Kovalchuk as a major reason why.
"I love winning," Lemaire said. "But I think before winning, I love seeing guys improve. I love when a guy plays well. You work; as an example, I worked with Kovy quite a bit. Spent time on video and all that. And then he goes on and does certain things that you're proud of."
Slowly, but surely, Kovalchuk is starting to get comfortable being a two-way player.
He's also beginning to get comfortable in New Jersey. His family resides in Florida now, but once their home in Bergen County is completed, they'll be able to reunite.
"It's tough right now because I'm by myself," Kovalchuk said. "It takes a little time."
It takes a little time. Sounds an awful lot like learning how to play defensive-minded hockey, doesn't it?
"I try to learn everyday," Kovalchuk said. "I have a lot of room to improve, and that's what I want to do. But the season isn't over yet. So we'll see what happens in two months."