NEWARK, N.J. -- Coming off a third-period benching in Montreal against the Canadiens on Sunday afternoon, New Jersey Devils rookie left winger Mattias Tedenby was the last player you would expect to be absent from the ice during Tuesday morning's optional skate.
But while most of his teammates were honing their skills before a critical game against the Carolina Hurricanes at the Prudential Center, Tedenby was nowhere to be found, instead opting to stay home and rest.
Smart move, kid.
Bold. But smart.
Eventually, the 20-year-old did make his way to the rink before game time and ended up scoring two goals, including the game-winner with 2:18 left in overtime, lifting the Devils to a dramatic 3-2 comeback victory over the Hurricanes.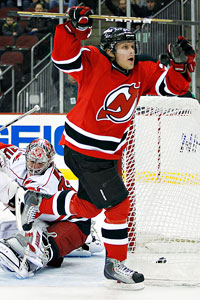 AP Photo/Julio Cortez
Two goals? Yep, that's reason for Mattias Tedenby to celebrate.
"Yeah, of course it's nice to score and nice to get two points again," said the soft-spoken Swede, who tallied his sixth and seventh goals of the season, his first in eight games. "We keep winning and that's a very fun thing. We enjoy it more."
Although Tedenby wouldn't admit to it, his time playing for interim coach Jacques Lemaire has been anything but enjoyable. Tedenby was a healthy scratch just three games ago, and did not suit up for the first six games after Lemaire stepped in to replace John MacLean.
"I thought he was good in the offensive zone with the puck," said Lemaire, who believes Tedenby's defense still leaves much to be desired. "He was making things happen. He was probably the second-best, even the best offensive player tonight overall. But the thing is, there's certain shifts he didn't go on. That line [Jason Arnott and Vladimir Zharkov] was going and they were in our end every time they went on. That's why he probably had 10 minutes [of ice time]."
Tedenby made the most of what little opportunity he was given. After receiving a drop pass from Travis Zajac in the Carolina zone, Tedenby sped in and beat Hurricanes goaltender Cam Ward with a wrist shot between the circles at 2:42 of the extra session, capping off an improbable win, one which brought the Devils to within 15 points of Carolina for the eighth and final playoff spot in the Eastern Conference.
"Teddy has to improve a little bit in certain areas," Lemaire said. "But offensively he's really good."
Tedenby's first goal of the game -- his first since Jan. 17 -- came at 11:33 of the second period. Following a fortuitous bounce off the end boards on Colin White's shot from the left point, Tedenby was stationed right in front to receive Arnott's backhanded pass through the crease and tap it into the net.
"It was a great play by him," Tedenby said of Arnott. "Very nice play."
It was a moment Tedenby needed with his confidence waning.
Lemaire wouldn't disclose why he benched Tedenby in the third period in Montreal, saying "it's personal."
Tedenby must've taken the message to heart. And by that he must've taken it to mean he should stay home for Tuesday morning's optional skate.
"Most young guys would come," Lemaire said. "But I gave him the option to stay home. So he stayed home."
Should that trend continue?
"For him, maybe," Lemaire said. "Not for other guys."